Let's get ready to rumble!
The six teams from four regions are all coming to Sao Paulo, Brazil on June 8 for an epic fight! The best players from the Spring Challenger Series will meet face to face and decide who goes to the grand Gods of Boom tournament in Cologne on July 6-7 and gets the biggest slice of the $40,000 prize pool pie.

Let's give a warm welcome to Lazarus and DustTwo eSports from Europe, Impact Gaming and Eanix from North America, and Brazukas and CycloneGG from Latin America and Southeast Asia respectively.

Best players from different regions are coming from all over the world!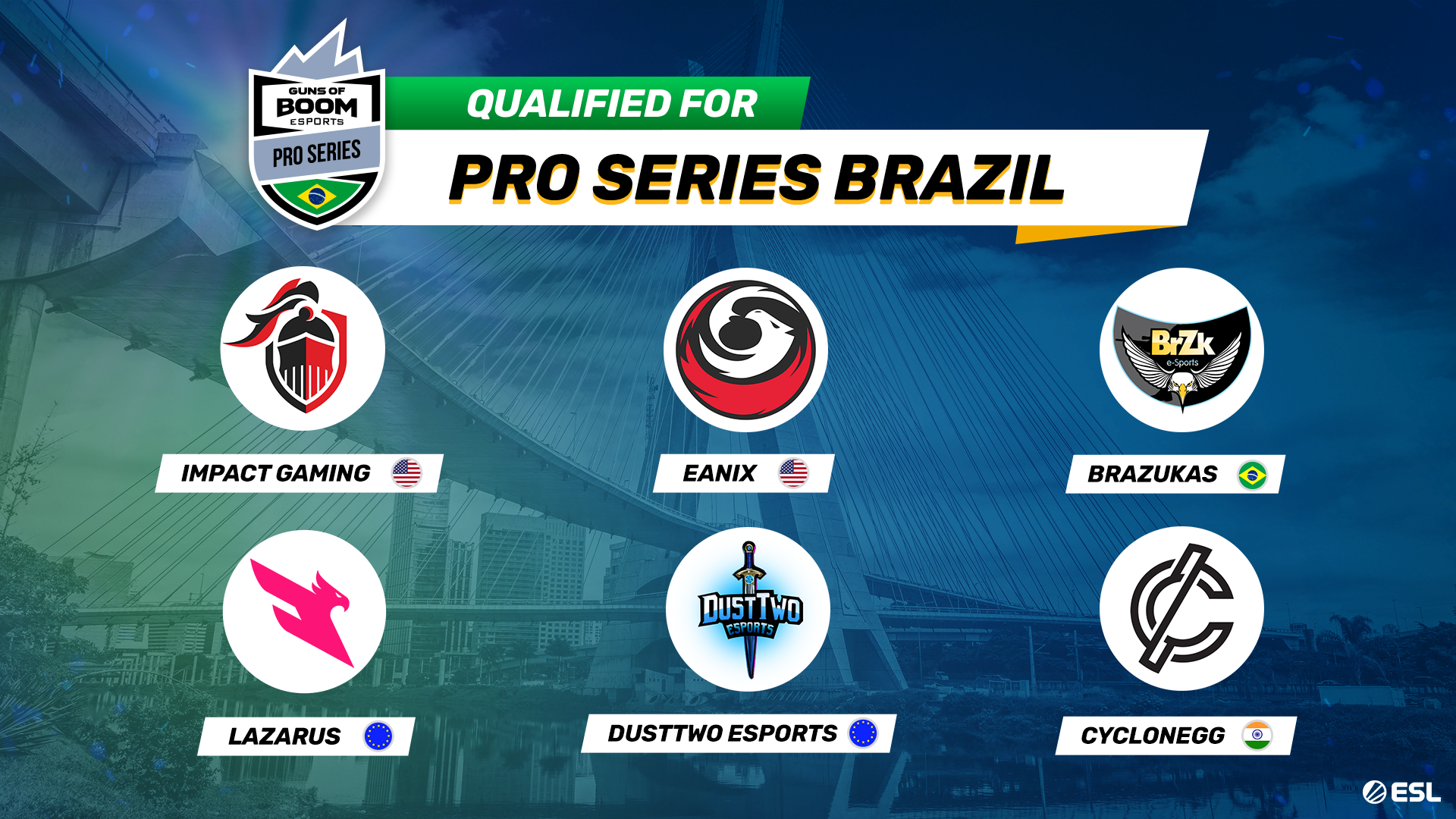 Grand prize
We are talking $40,000. The winner of the battle will take home not just the trophy and $20,000, but also a guaranteed spot in the next Gods of Boom live event in Cologne where they will challenge previous victors - Back to Back(ex-Noble) Gods of Boom Kick-off winners and Impact Gaming Pro Series Texas winners.

The team that comes in second will also get a hefty prize of $10,000. 3rd and 4th place gets $4,000 and 5th and 6th place get $1,000 each. They all will have to start their ascend to glory all over again from Challenger Series qualifiers as well as everyone else.
Where and when?
All of the glorious battles will take place at the Bad Boy Leeroy Arena, Sao Paulo, June 8 at 17:00 GMT and 14:00 BRT. We are already sold out, but no worries you can tune in from any spot in the world to check out the tournament on our broadcasts!
Tap for the main English broadcast here:
You can also watch the broadcast on our Facebook page - here!

We will also cover the tournament in Brazilian Portuguese and Russian.
Tap for your region's broadcast here:
Brazilian Portuguese Broadcast will be on ESL Facebook page - here.
Russian YouTube broadcast:
Don't know when is the start of the tournament in your home city? Here's a time map for your convenience: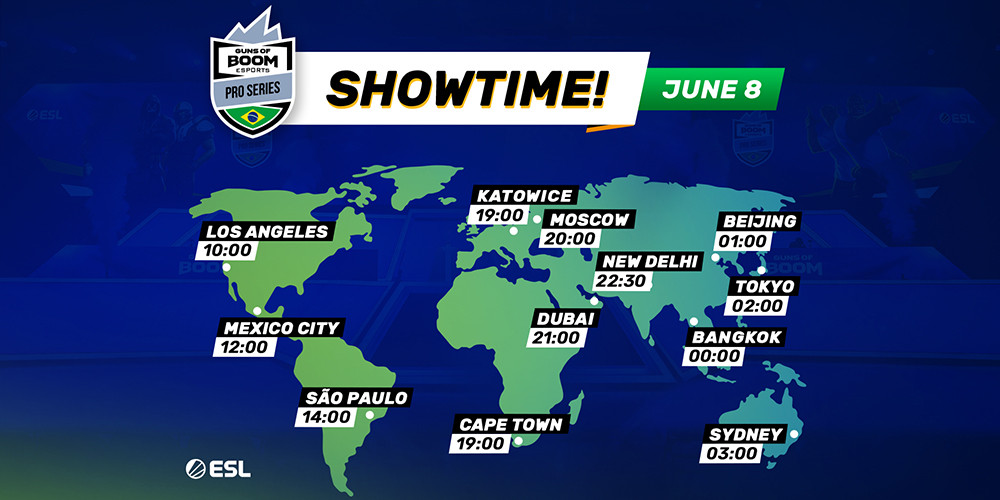 Who are the host and commentators?
Meet the talents who'll take you through all the hardcore matches that await us this Saturday. Once again, we've got the best of the best for you!

Main English Broadcast
Matt "MattAndrewsTV" Andrews — the host of the evening, who'll definitely run a tight ship on June 8. After all, he's an extremely experienced esports commentator who was a host at the first mobile shooter esports stadium event, Gods of Boom Kick-Off 2019! Follow him on Facebook and Twitter.

Arseniy "The Stanis" Stanis — you know him like your brother. Maybe even better, in case you don't have any brothers. He's the face of Guns of Boom, the guy who brings you all the news, and just an awesome dude with a great sense of humor. Also, he's got a Twitter – you know what to do!

Harry "Lethal" Thomas — a familiar face to all esports fans. He's cast all of the Guns of Boom offline events and even some online tournaments. Experience and expertise - lethal combo! Follow his awesome Twitter now!

Jeff "Ph0rmat" Ramirez — the player who went from casual to pro. You can read up about him in our previous article.

Daniel "FalconeHS" Falcone — he's a new voice in our offline events, yet you might have heard him cast the Summer Challengers. Make sure to follow him on Twitter! BTW, you can still join the qualifiers, and maybe Falcon will cast your game. Find out more here.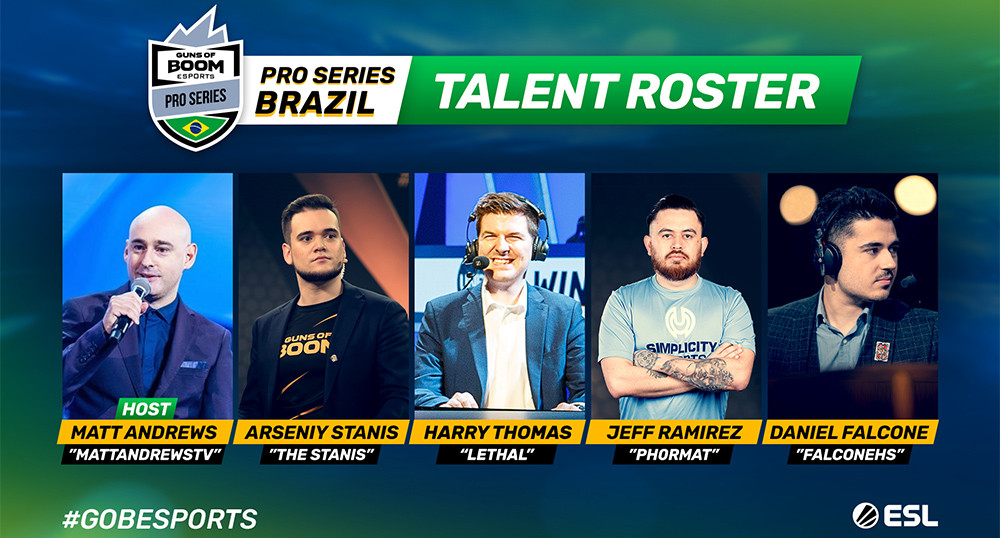 Brazilian Portuguese Broadcast

PlayHard — one of the Brazilian casters who'll be working right at the venue. His voice will deliver all the action to the event's live audience, as well as to all Brazilian viewers online. He's a well-known creator who is adored by the local community, and he's been around to cast Season One Finals and Gods of Boom Kick-Off 2019. Follow him on Facebook and subscribe to his YouTube channel in case you haven't done so already!

TopMundo — the second Brazilian caster who'll be working right from the Bad Boy Leeroy Arena. This guy is a big part of the community and has already participated as a caster during Gods of Boom Kick-Off 2019. No doubt he'll do a stellar job this time as well! Follow him on Facebook and subscribe to his YouTube channel.

Russian Broadcast

Alexander "Hot Pepper" Tsoi — a skilled player, an experienced event caster, and the captain of team EPG, so he's got tons of expertise. Check out his YouTube channel here.
Giveaways
At our main broadcast on YouTube you'll get the chance to win the legendary Odin - one could argue almost the strongest assault rifle in the game! Other prizes include Battle Career Elite Contracts Plus, the amazing Capoeira costume, and the Icebreaker rifle! Keep an eye out for all that awesome loot.
The draw will happen somewhere during the broadcast on the Guns of Boom YouTube channel. And it will happen swiftly! So watch closely, and be sure to stay until the end so you won't miss it!
Is there something in-game?
Yes! We've got a whole Pro Series event going on right now: the first stage with its challenges has already started, and the long-awaited Pro Play Brawl with the first-ever Brawl Ratings will kick off this Friday! Read more about it tomorrow!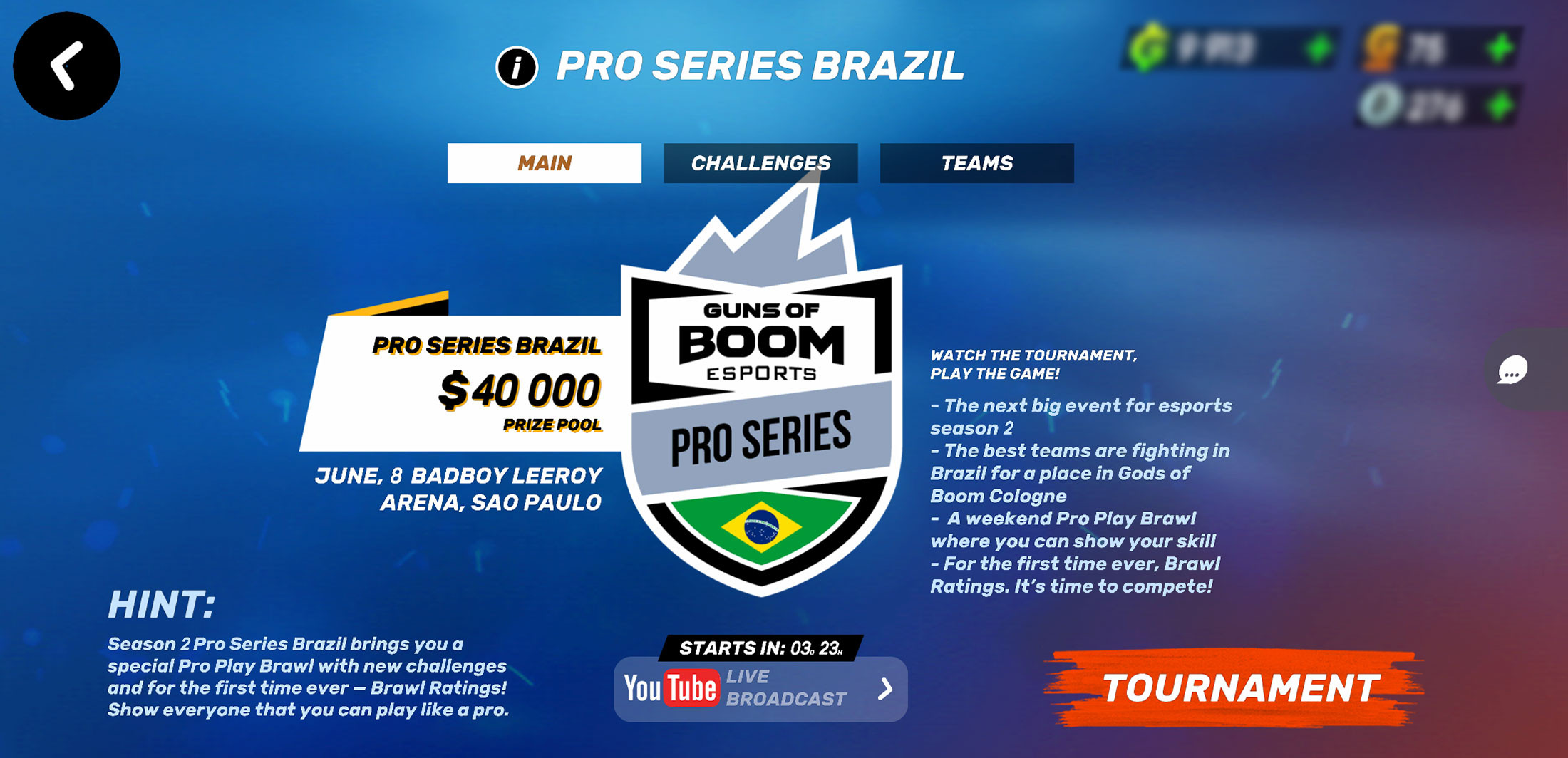 How does Season 2 work?
All teams must compete in the Challenger Series to earn points for victories and get to the next stage—Pro Series Tournaments. Winning in the Pro Series secures a place in the elite Gods of Boom tournament. Gods of Boom tournaments are the offline events held at the world's largest esports arenas.
Want to be a part of it? You can still participate in the last part of the Challenger Series – Summer Challengers have just started! Join in and become a Champion!