Guns of Boom is a competitive first-person shooter (FPS) for mobile devices with a 60 million audience across the world. The game has already won over countless Esports fans!
Guns of Boom is one of the first mobile titles to make a noticeable mark in esports history. The game offers a specially designed competitive mode that allows players to fight on equal footing. In 2018, we've held two major tournaments and mid-season online tournaments - in Katowice and Los Angeles - with a total prize pool of $200,000! During Season 2, teams competed for a trip to the most important event of the year, and the battles were heated!
G.O.B. Esports 2020
During 2020, we tried several formats and approaches to organizing tournaments - here's the breakdown

Challengermode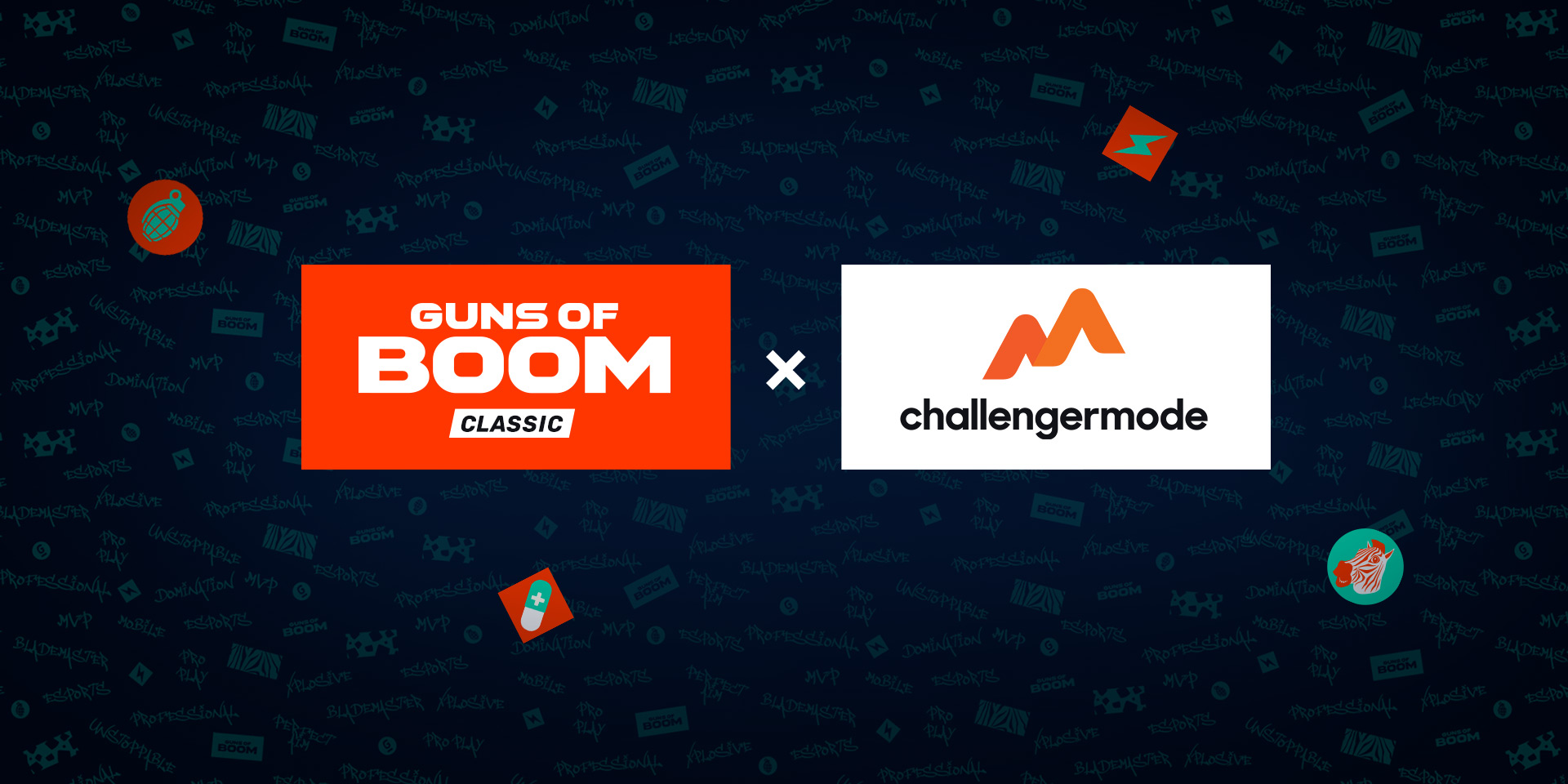 The latest step in our competitive quest is a partnership with Challengermode. It's a tournament platform that fits perfectly into our vision of accessible tournaments open to all players. There are tons of perks when it comes to Challengermode, here're just a few:
Fully automatic tournaments - players only need to register and check-in before the game
Participation for full teams, incomplete teams, and even solo agents - the system helps form as many complete teams as possible
Great in-game prizes for winners
Map pools that include modes not usually available in the game
Statistics to keep track of your (and your enemies') progress
All weapons and equipment unlocked (according to tournament regulations) + all perks at maximum level
And that's barely scratching the surface! There's a ton of other cool features that make Challengermode the platform of choice for fun and easy competitive gameplay. If you want to learn how to play in Challengermode, check out this guide. Better yet, head over to their website, register for a tournament and play this very weekend to get the full experience. You're gonna love it!

To become a tournament organizer and get exclusive access to the BETA tournament creation features please submit your request to esports@game-insight.com. Put down your Discord ID and make sure to tell us why YOU are the perfect tournament organizer for us!

Clash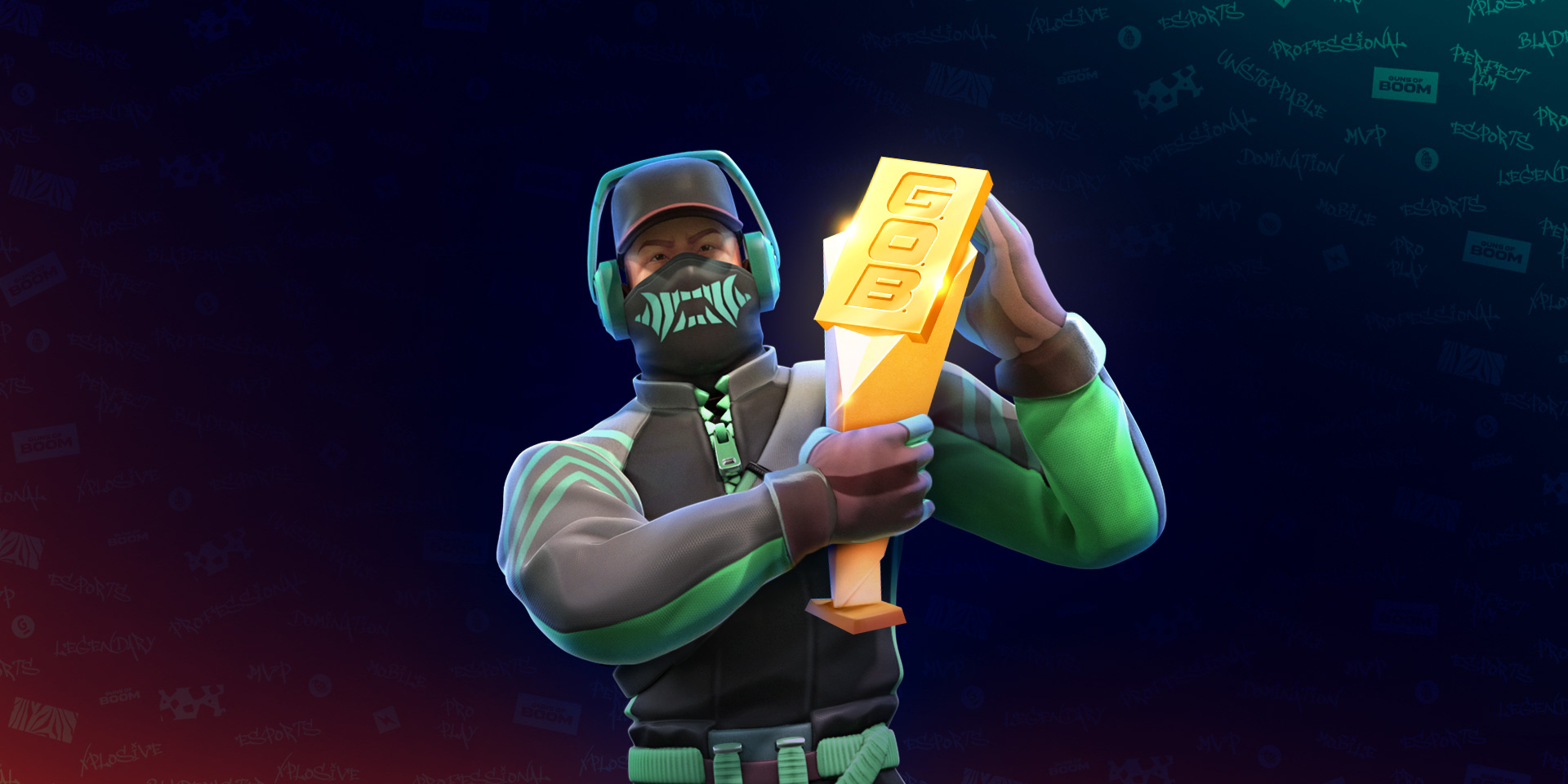 Earlier in 2020, we launched a beta-test of our own tournaments called Clash.
Clash was designed to be an accessible and easy-to-use competitive platform for players of all skill levels fully integrated into the game and available from the main screen. We held a closed beta for gunslingers level 45+ and got some great results along with invaluable information. We need to process all the data we got and make some important changes before continuing with testing Clash on a big audience - we'll be back with more news in 2021! If you're interested in how the beta went down - here's an article with all the results.
Gods of Boom Season 2
This year, Game Insight has developed a system of three consecutive series. By winning one, the team moves to the next:
Challenger Series (online tournaments)

Pro Series (offline studio events)

Gods of Boom (stadium-level events)
Challenger Series
This is the entry point, with weekly online tournaments for teams around the world. If your team does well in these games, you score points and win cash prizes. The Challenger Series is divided into stages that lead up to the next Pro Series event. There are Winter, Spring and Summer Challengers. At the end of each stage, the top teams advance to the next stage — Pro Series. At the end of a stage, all qualifier points are reset, so every stage of the Challenger Series starts off with a clean slate.
Pro Series
These are offline esports tournaments featuring the top teams, taking place at different venues around the world. There is serious prize pool money at these events, and a team can make a name for themselves, forever marking their place in esports history. What's most important though, is that winners of the Pro Series get to advance to the top tournaments — Gods of Boom.
Gods of Boom
The best of the best are gathered here. These guys aren't just sharpshooters and skilled fighters, they're all very experienced team players who know how to play tactically as a unit. Every team on this level is nothing short of a Gods of Boom legend. These tournaments are played in huge arenas with crowds of fans cheering from their seats. The winners take home big money, trophies, and the title of champion.
Contenders of Season 2 will fight for the $500,000 prize pool!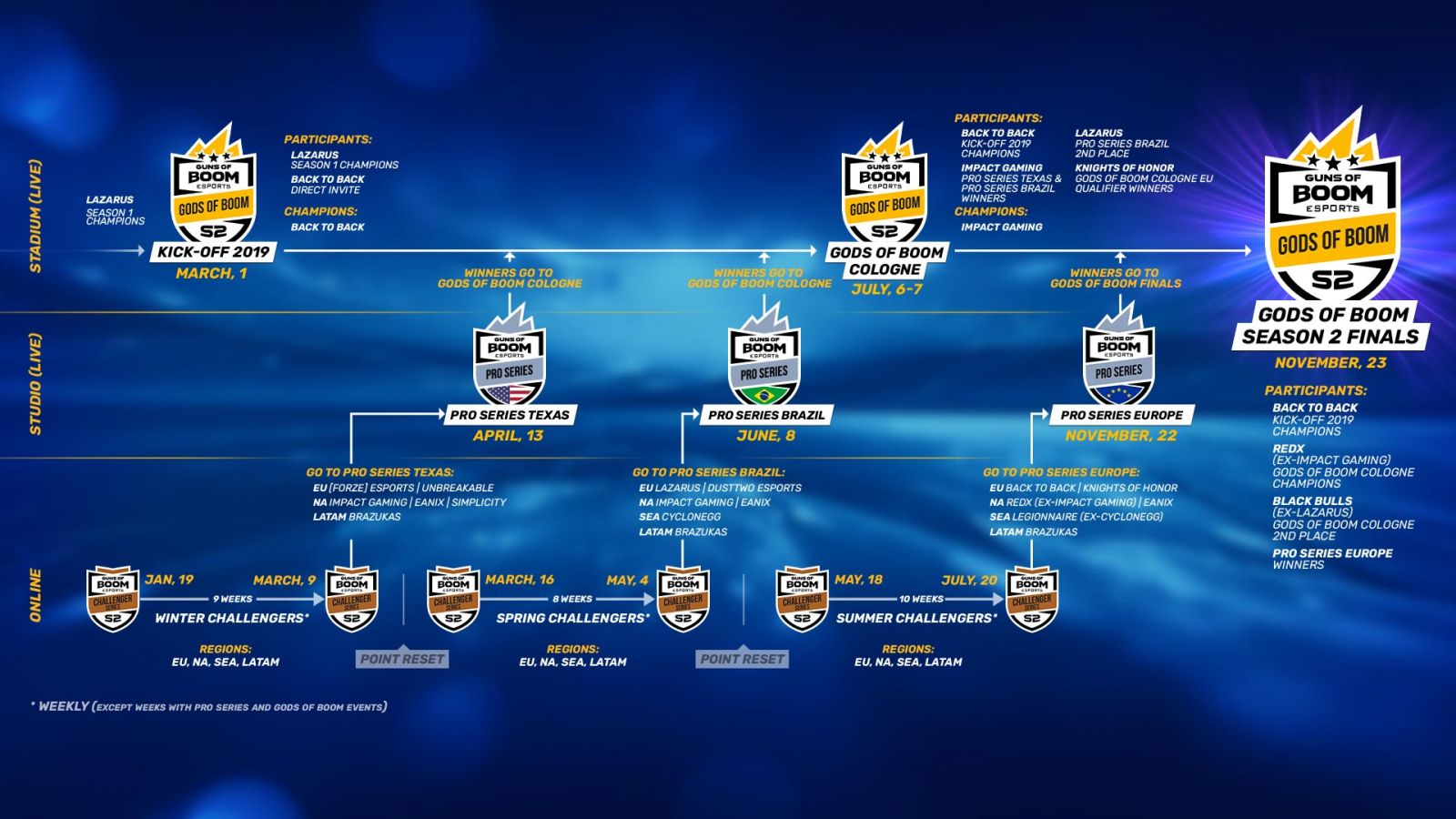 Let's talk about the live events which already happened in Gods of Boom Esports League:
---
Esports season 2 is over, and it was full of spectacular gaming, clutch holds, bold rushes and sneaky flank attacks. It was finished after two huge Gods of Boom events in Tallinn: Pro Series Europe and Gods of Boom Season 2 Finals

On November 23 the main stage HyperTown festival in Tallinn started filling nicely. Teams fought for a $180,000 prize pool, and once again RedX (ex-Impact Gaming) blasted to the top, taking the trophy and the money. This was their fourth victory in a LIVE event in Season 2 - great consistency.
Season 2 Finals prize pool is $180,000:

The fate of $40,000 and the last spot in the Season 2 Finals was decided when 6 teams from around the world gathered on November 22, Friday (some call it Brawlday). It was a heated battle, yet Black Bulls managed to take the win and claim the biggest chunk of the prize money! However, they were already in the finals, so the last slot in the decisive battle of the next day went to EANIX.
1st place - $20,000 - Black Bulls
2nd place - $10,000 - Eanix
3rd & 4th place - $4,000 - RedX & Back to Back
5th & 6th place - $1,000 - BrazuKas & Knights of Honor [JUGG]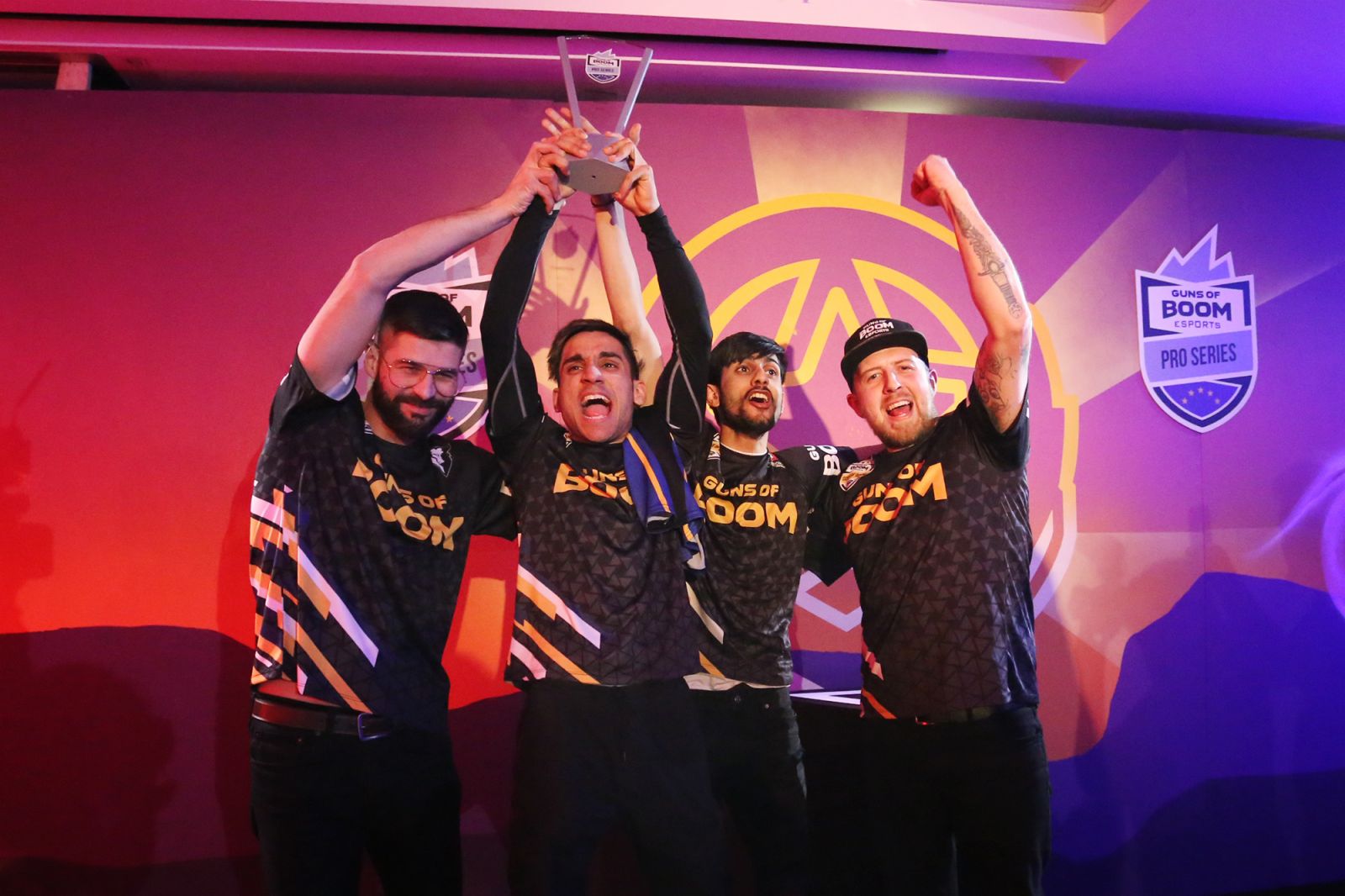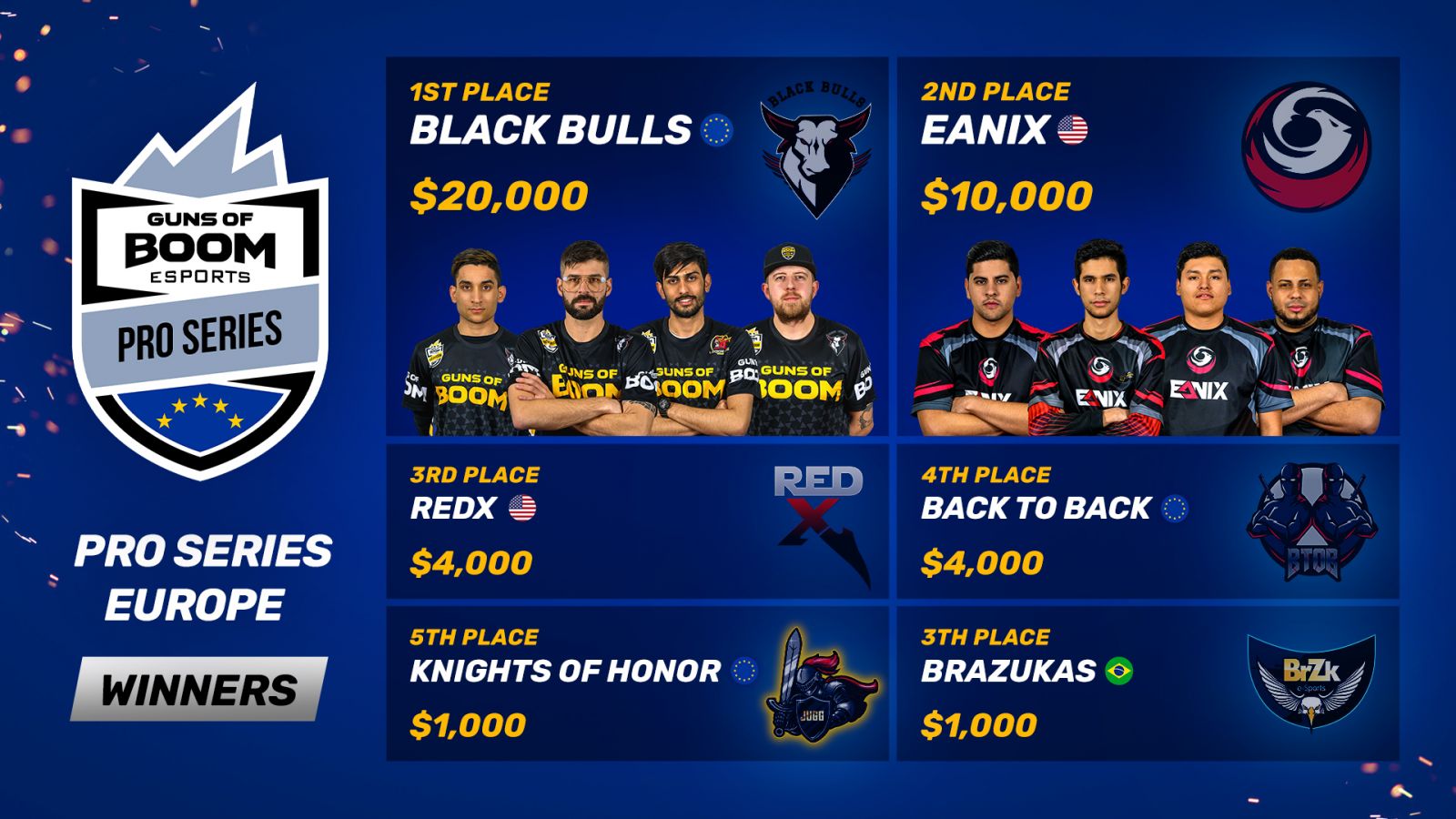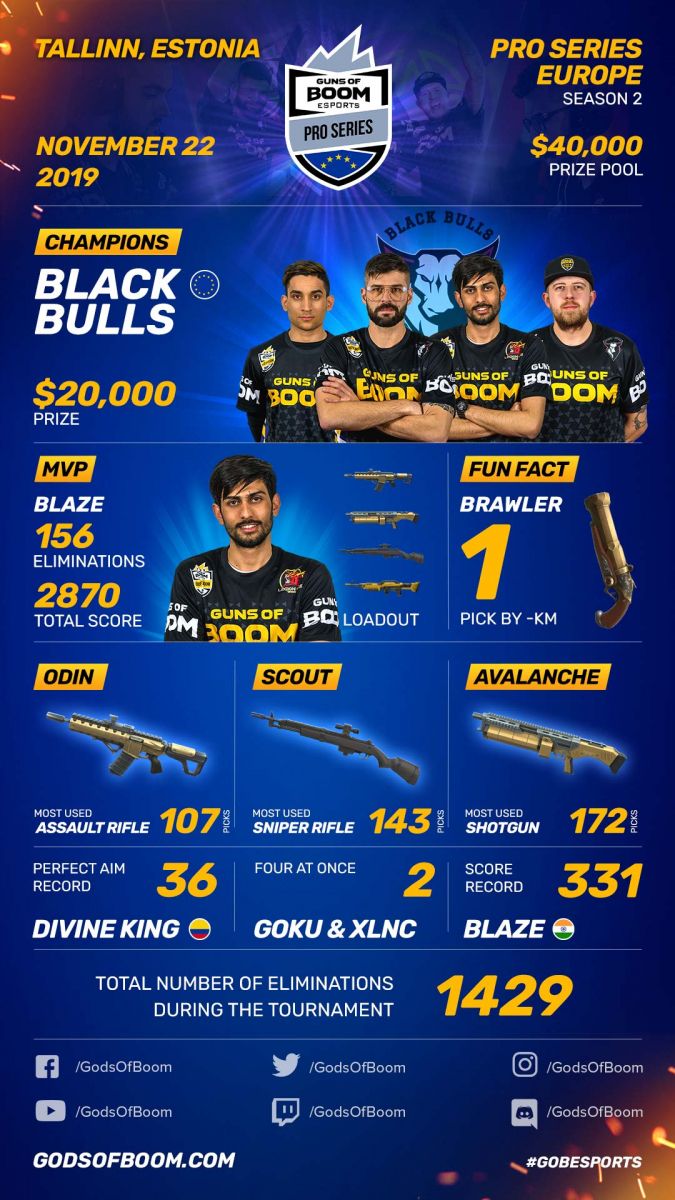 Tap to watch Pro Series Europe
We all deserved a good rest, so let's take a break and wait for some Season 3 announcements!

Watch an awesome trailer:
Gods of Boom ESL ONE Cologne took place July 6-7. The four best teams clashed in an epic battle for the $80,000, and RedX (ex-Impact Gaming) went home with $50,000. Proving themselves once again to be an unstoppable force and winning a third live event in a row. Lazarus also showed great game going up through the whole lower bracket and landing the second place with $20,000. It was an amazing tournament full of tension and epic moments.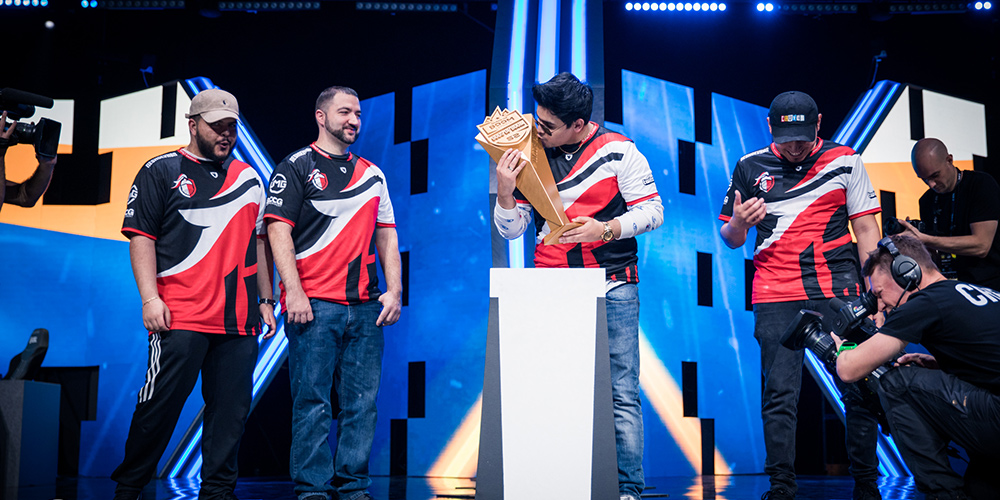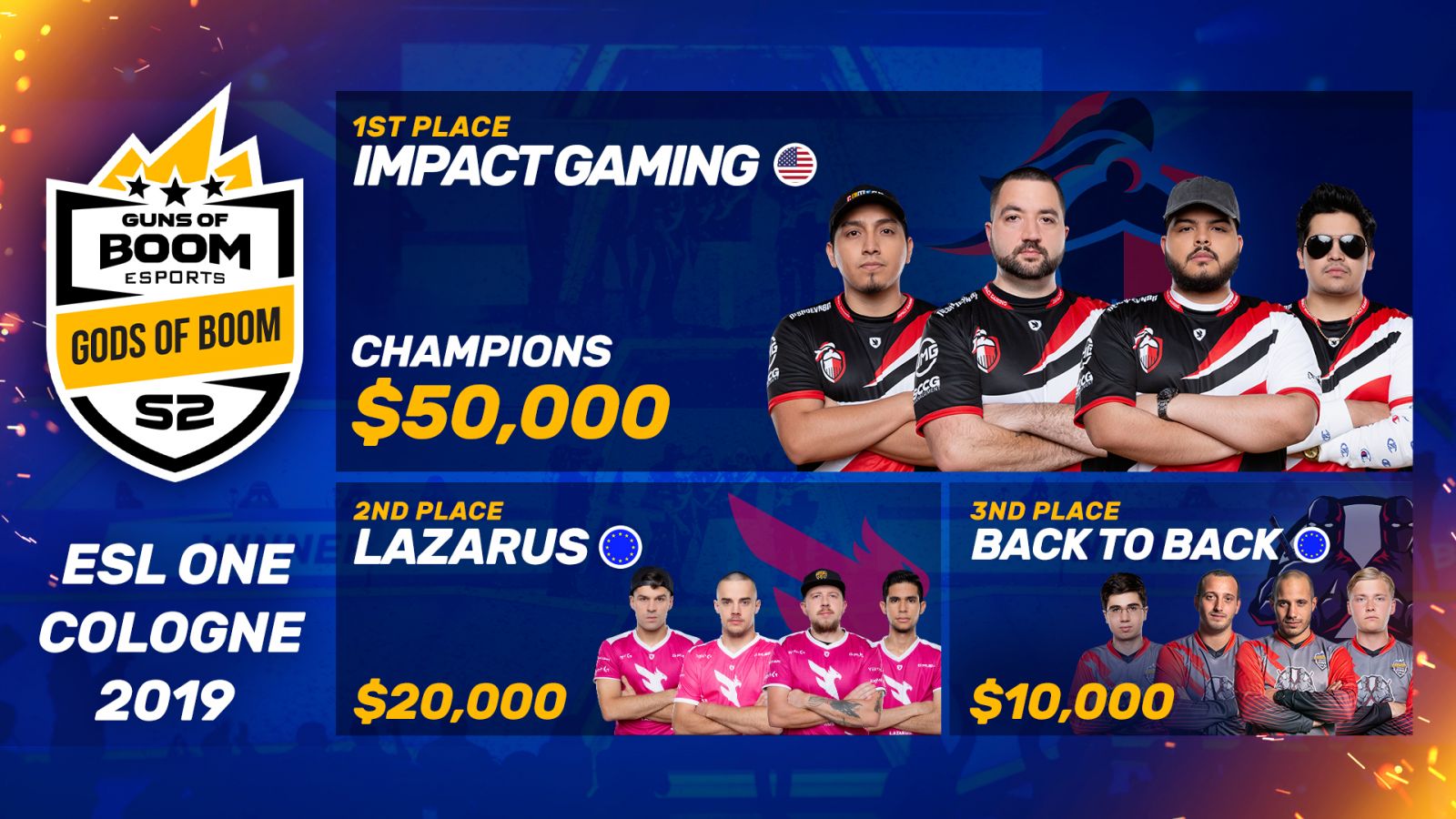 Watch the Recap and VODs:

On June 8 you saw a magnificent battle at the BadBoy Leeroy Arena in São Paulo, a real treat to any esports fan! The winners left the stage with a grand prize of $20,000 and a guaranteed spot at the next Gods of Boom event in Cologne, July 6-7.
This was the second Pro Series event of Season 2.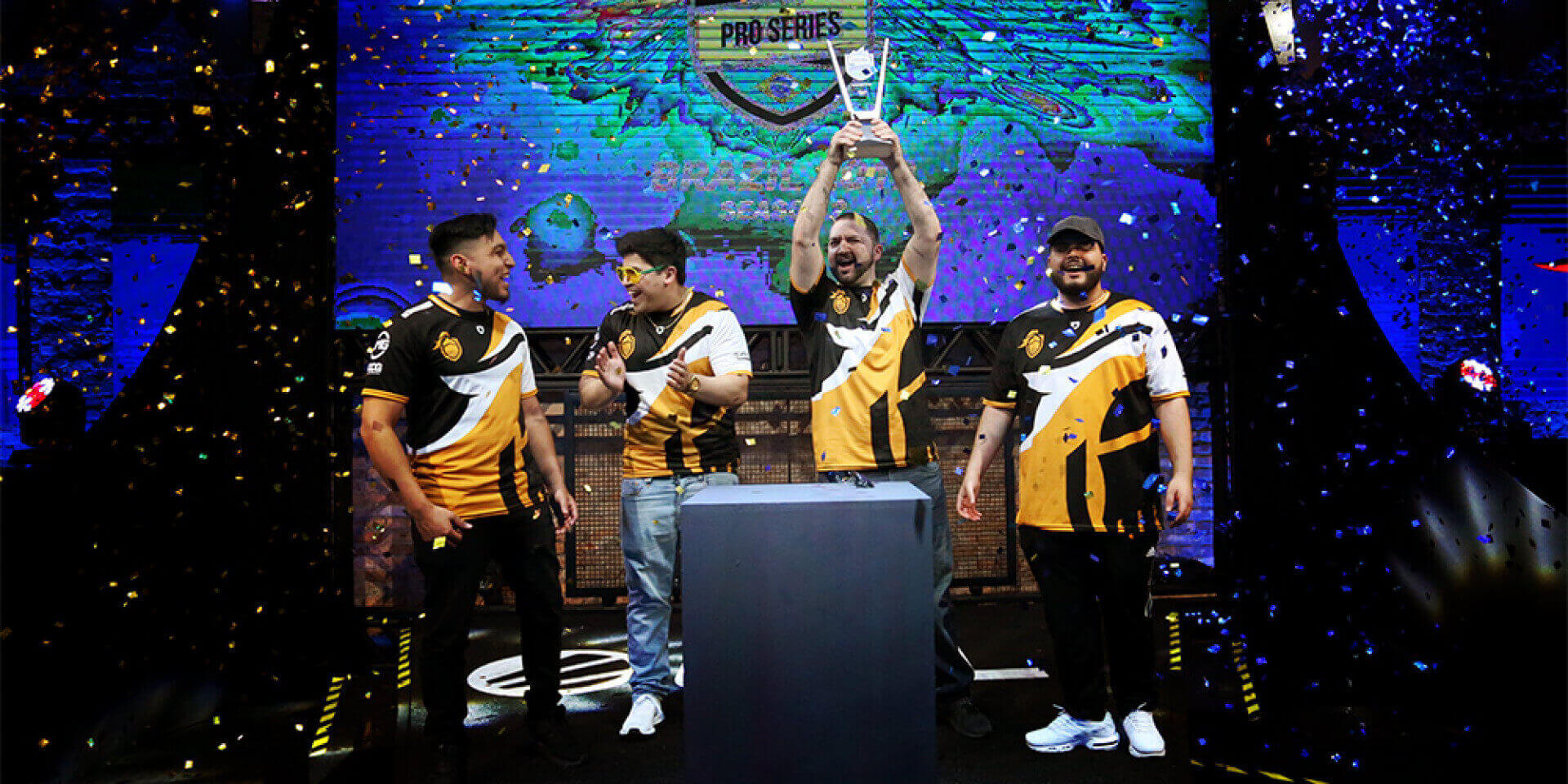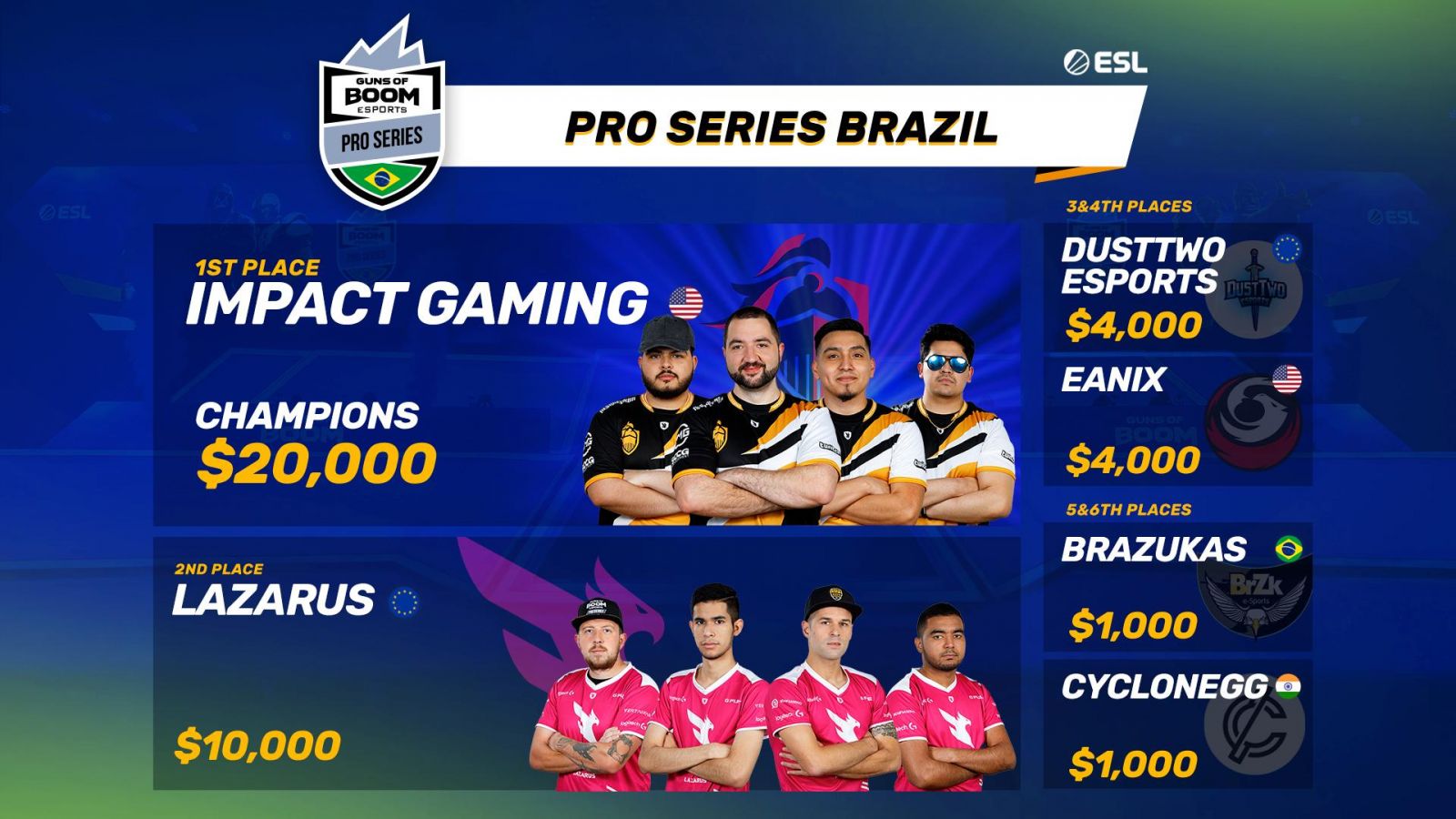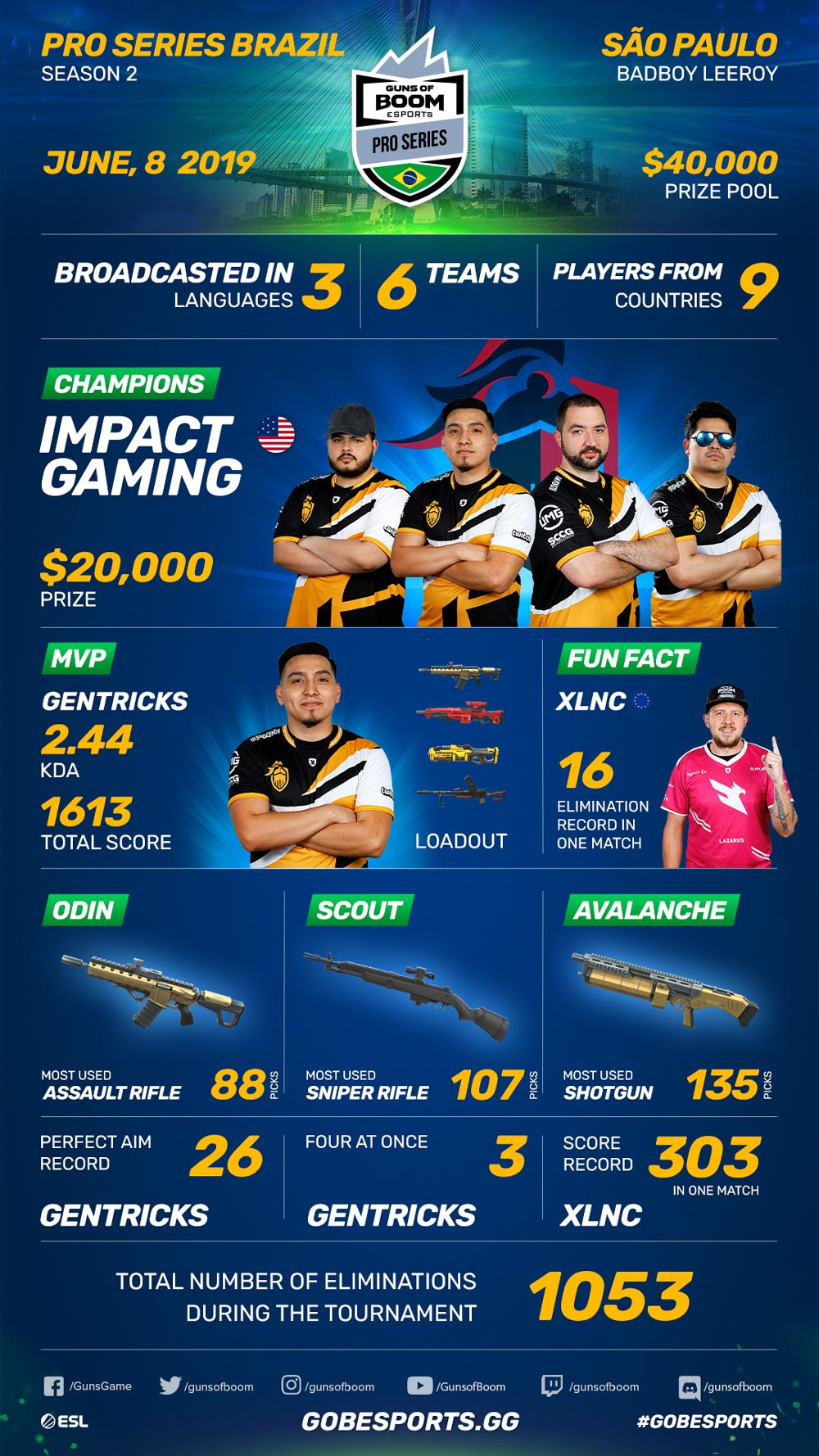 Watch the Recap and VODs:

Impact Gaming did an amazing job, showing exceptional personal skills and stellar teamwork. They get a hefty $20,000 and tickets to the Gods of Boom event in Cologne. Eanix put up a good fight during the tournament and claimed their rightful $10,000 prize.
It was a great battle, and we wish all the participants of the tournament good luck!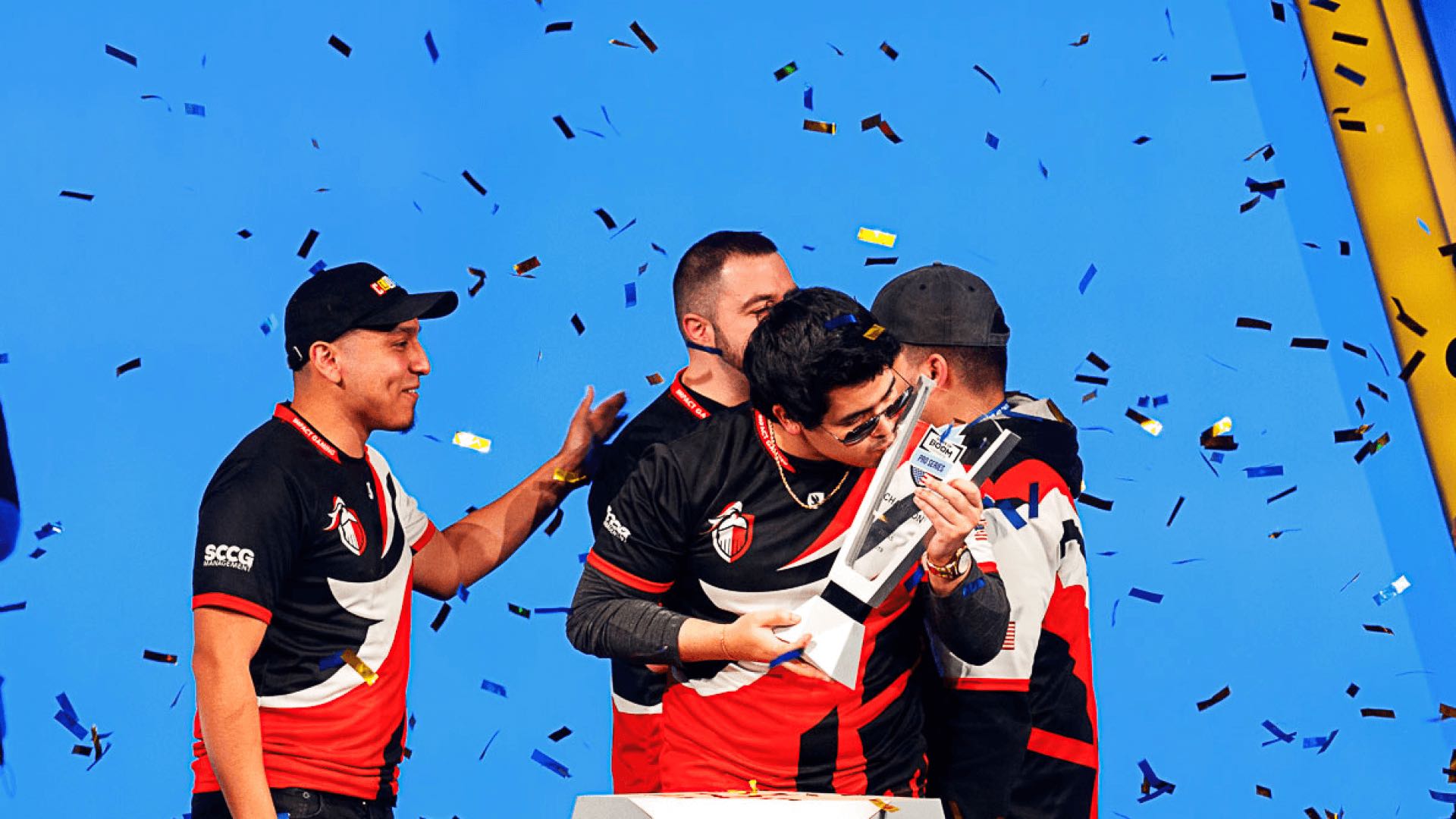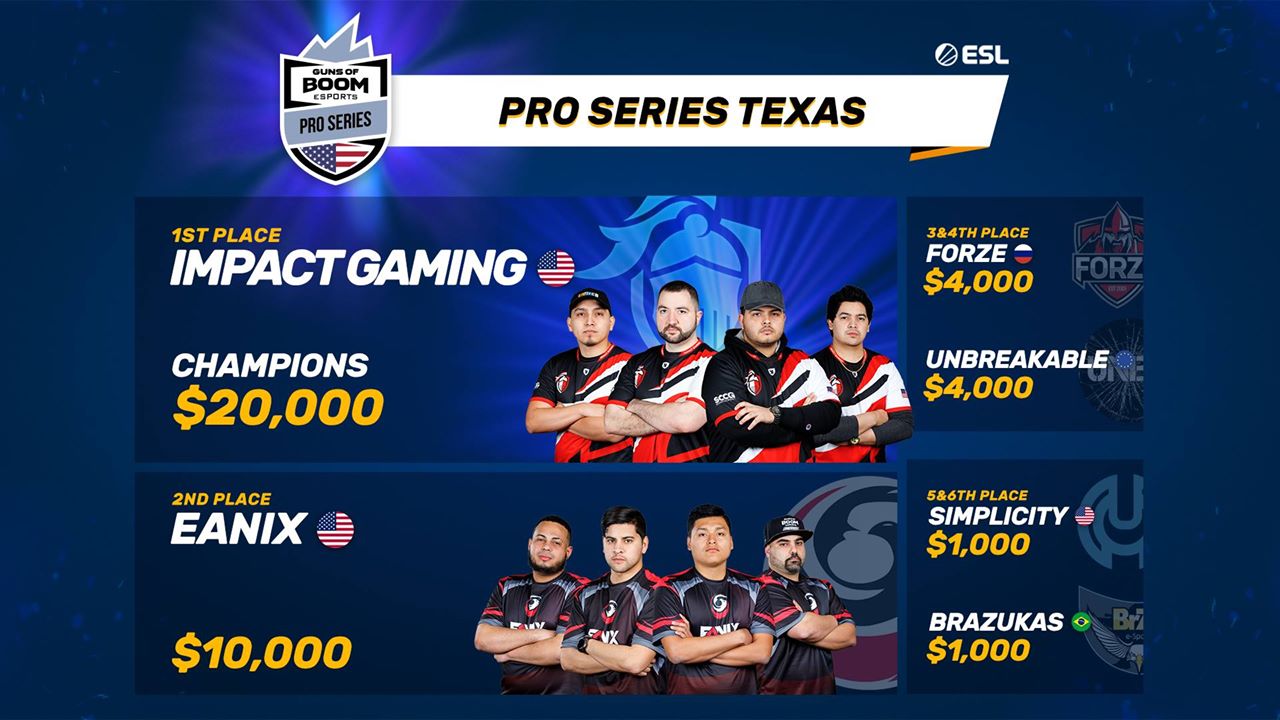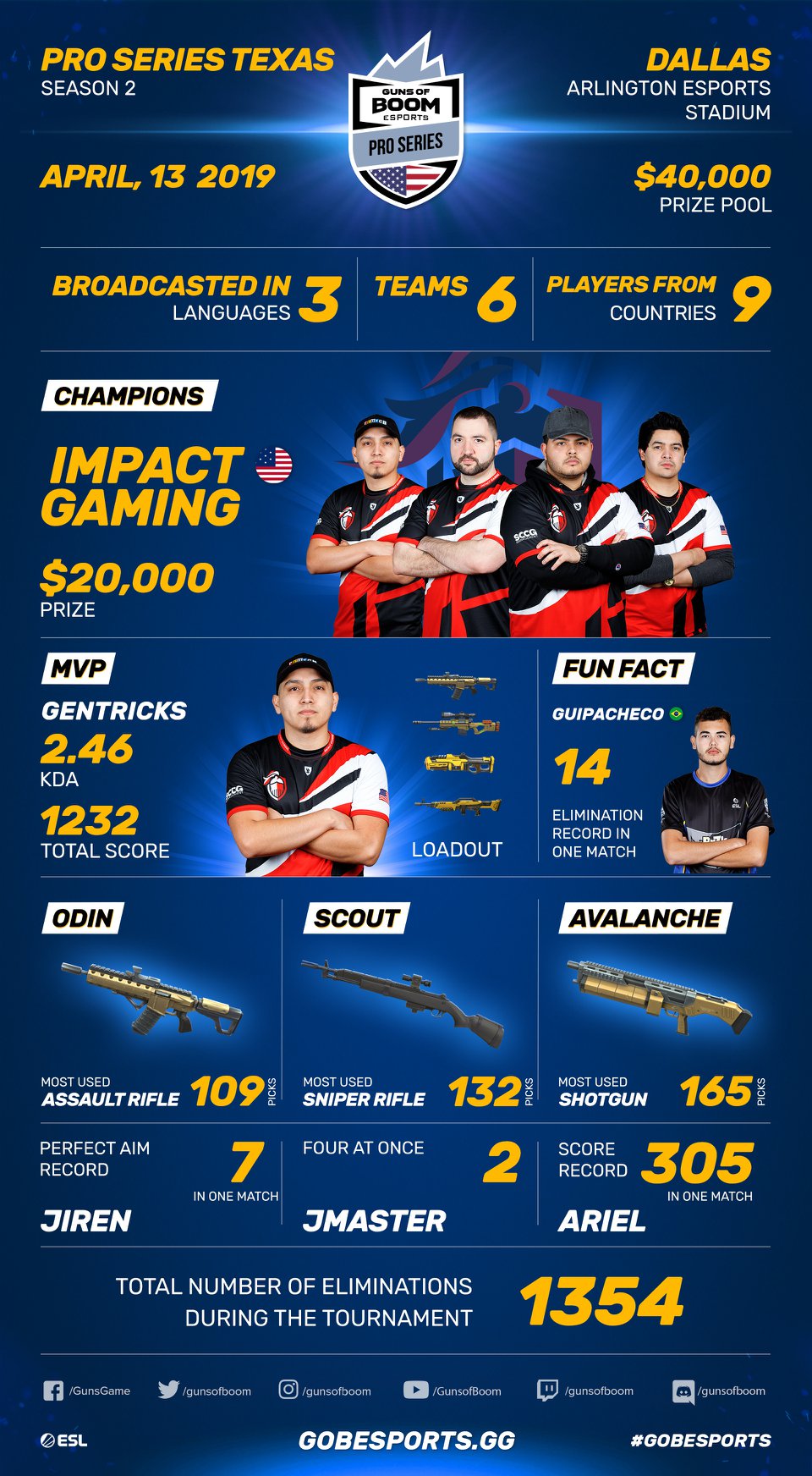 Watch the Kick-off 2019 trailer:
A historical event — a mobile shooter take the main stage of Intel Extreme Masters for the first time ever! The first match in the Gods of Boom league kick off Season 2 with its $500,000 prize pool. On this day, two legendary teams — Lazarus and Noble esports — played for $50,000 in a Best of Seven format.
The champions are Noble esports! Congratulations on winning the Champion Cup! They get the $40,000 prize as well as a guaranteed slot in the next Gods of Boom tournament. Thanks to Lazarus for the awesome game. They get to take home $10,000!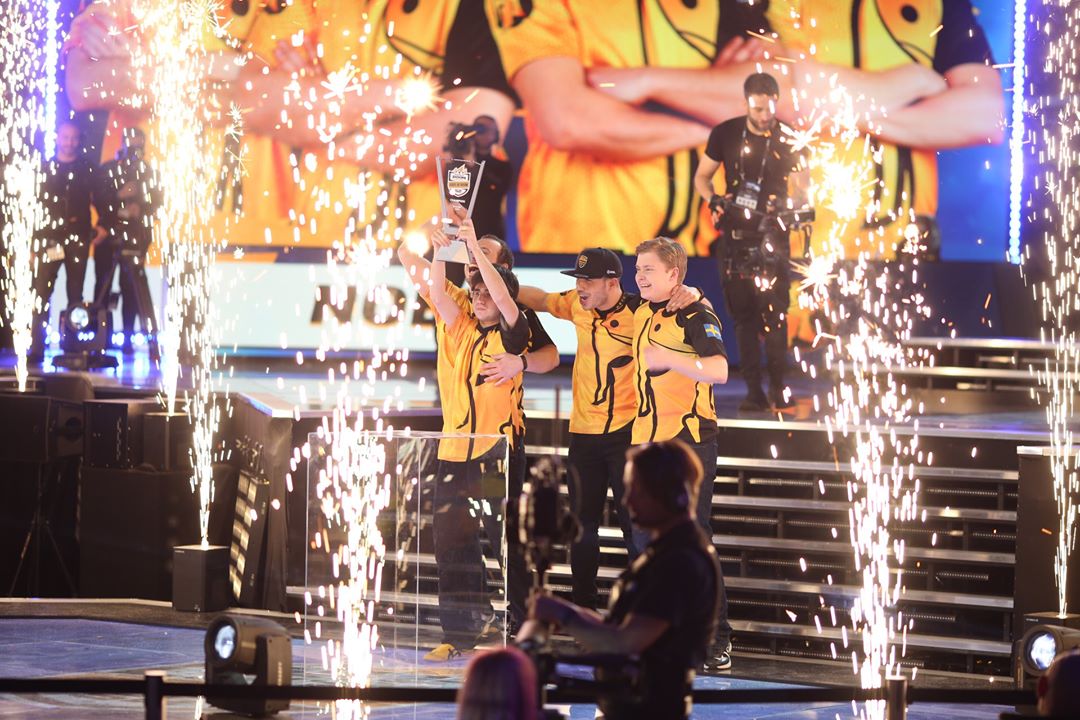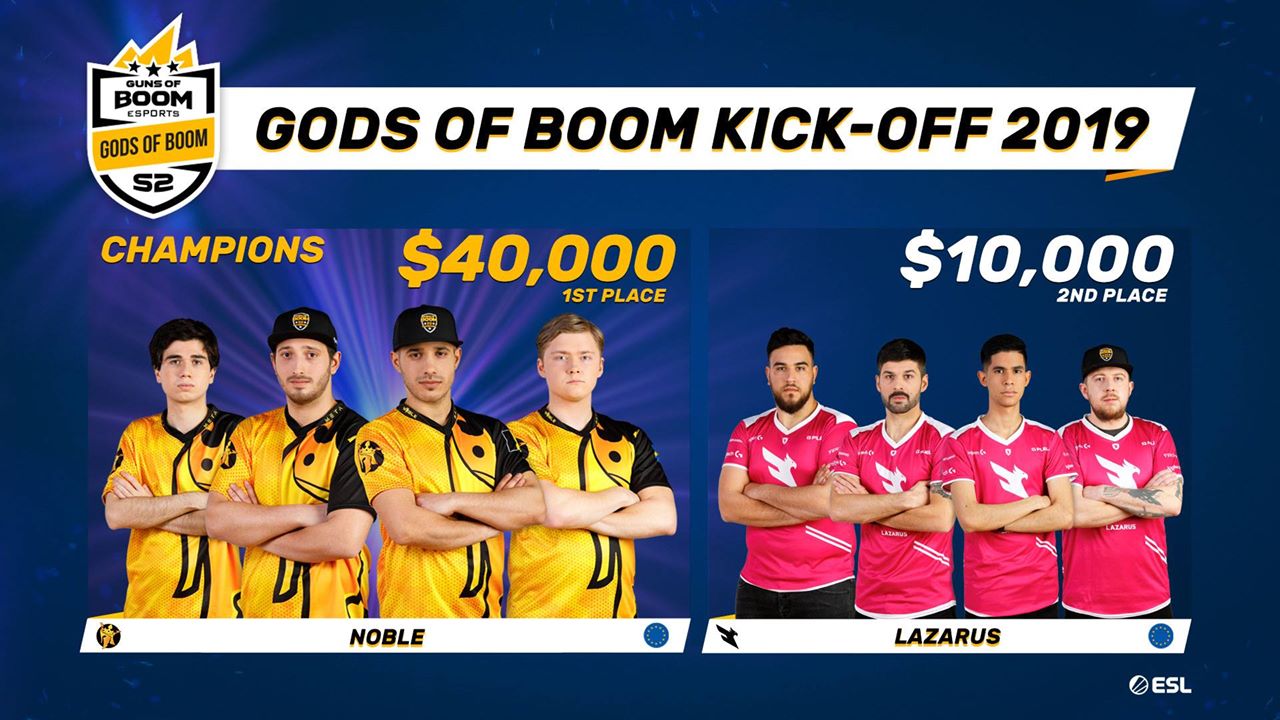 The guys from team Black Bulls became all-round champions of Season One. In both of the offline events, they took the final victories in heated and extremely clutch matches. Right now the guys have secured a trip to the next major event, which will take place in February 2019 during IEM Katowice!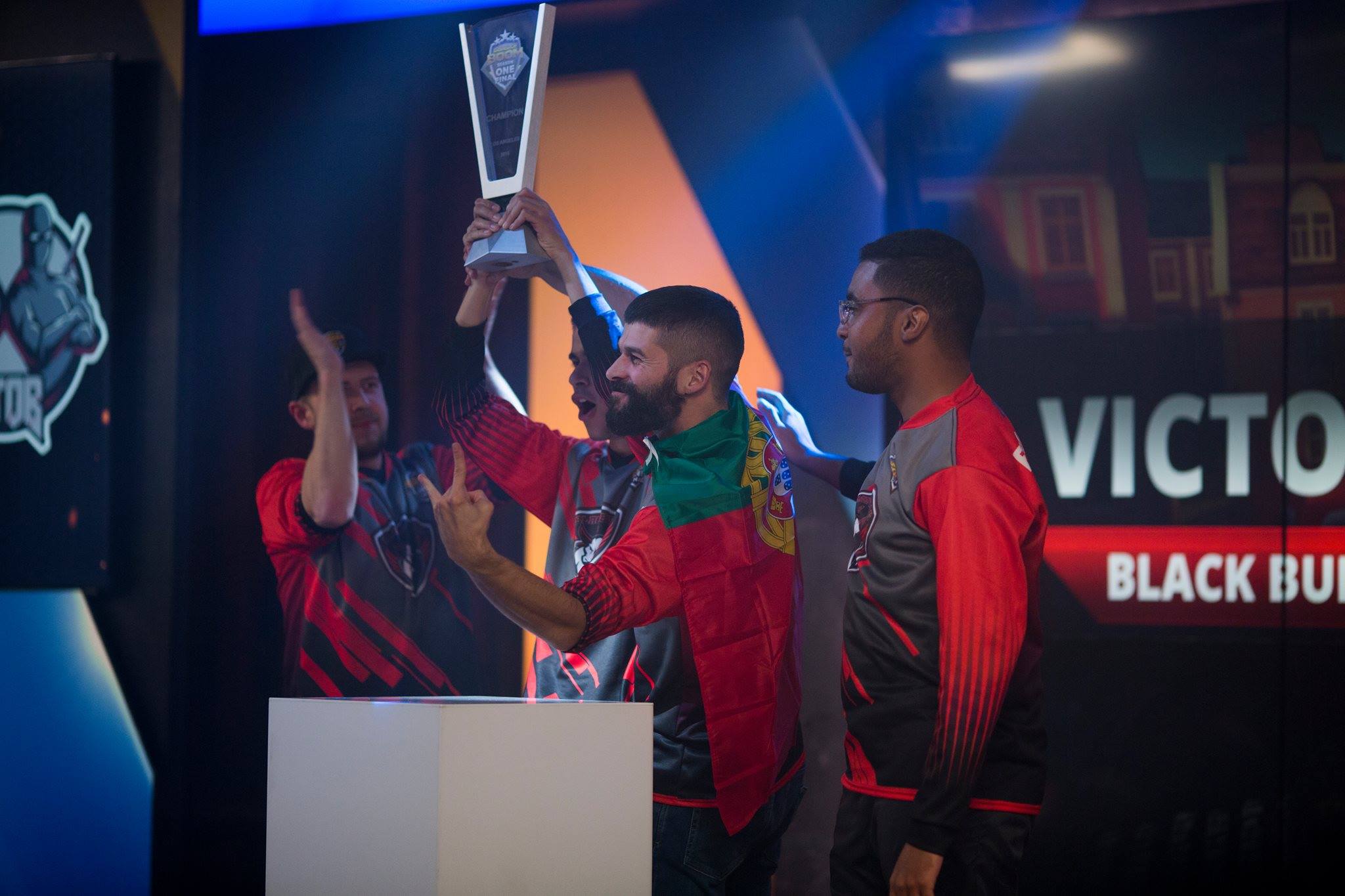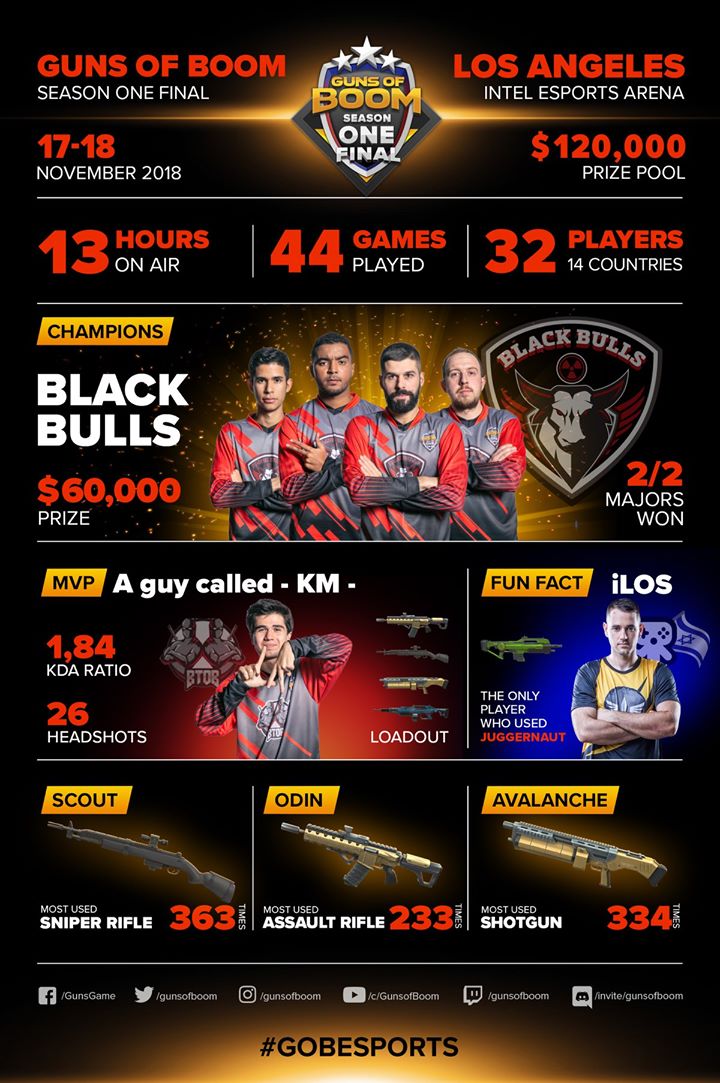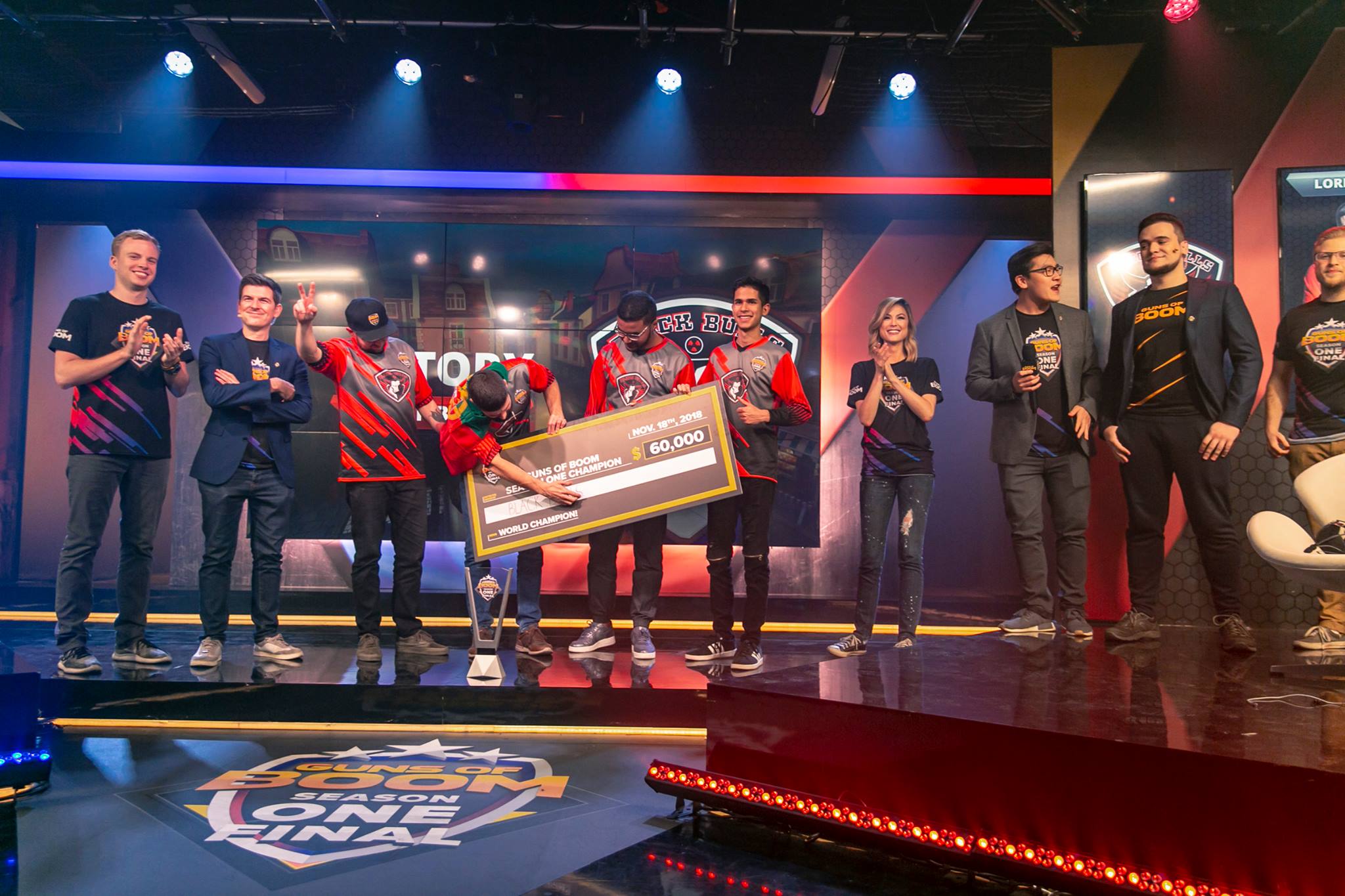 You can salute the acting champions and watch their interview: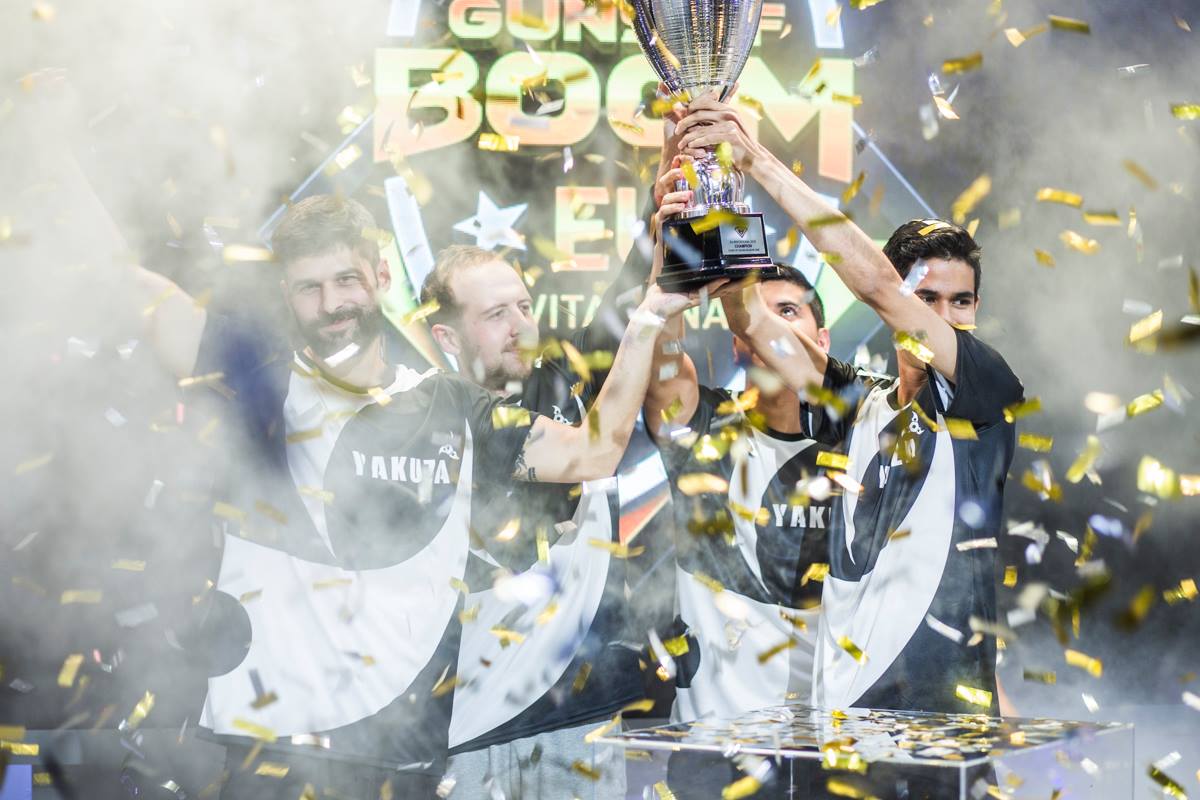 HARA Yakuza (Black Bulls now) took the first place and became the first-ever European champions in Gods of Boom! They got a $20,000 prize, a neat trophy, and the privilege to write their names in the history of professional mobile esports!