The final cup of the Summer Challengers is over, and oh boy was it an intense one! The tug of war between the teams was real, and the whole tournament was a true test of skill and teamwork. Let's take a look at the highlights and sum up the results of this hot event.
Southeast Asia
The half-finals in the region featured several memorable moments. In a battle between CycloneGG vs - XAVIERS - there was a lot of dancing and winning on the side of CycloneGG. The MVP in both these battles goes to EXHORDER who scored 180 and 205 points on the first and second maps respectively.
Moving on to IND_WOLVES vs PRESTIGIOUS. The first map went in favor of PRESTIGIOUS thanks to great plays by _PD_ (MVP with 194 points) and his teammates. Things changed on Farming Complex when IND_WOLVES came back won the map with a double advantage in points and ‑GHOST- taking MVP with a 185 score. The final battle started with Chatri making First Strike and following up with a stunning Triple Elimination, but despite this opening from PRESTIGIOUS, they did not come out on top of this fight. The victory went to IND_WOLVES, with -HOPE- taking MVP with 212 points.
The finals in Southeast Asia started out with the most clutch confrontation on Europe: Streets. The score was almost even between the teams at all times and in the end, CycloneGG secured a victory with only a two-point advantage! The star of this nerve-wracking match was Blaze who gained 203 points. Atrium was more one-sided: CycloneGG felt comfortable and got a pretty easy win. Military Warehouse, on the other hand, was full of surprises: Moriarty from IND_WOLVES at some point decided to break into dance and then ended up in a great position to unload his G‑Launcher into a group of enemies, getting a whopping Triple Elimination.
This gave his team the needed advantage to claim the map. Looks like dancing's for good luck! No wonder that dancing Moriarty got MVP as well with his 212 points. The finals ended on Subway: Station Control Points with CycloneGG capturing and holding the points very confidently. IND_WOLVES showed a great game full of nail-biting and clutch moments, but lady luck was not on their side this time.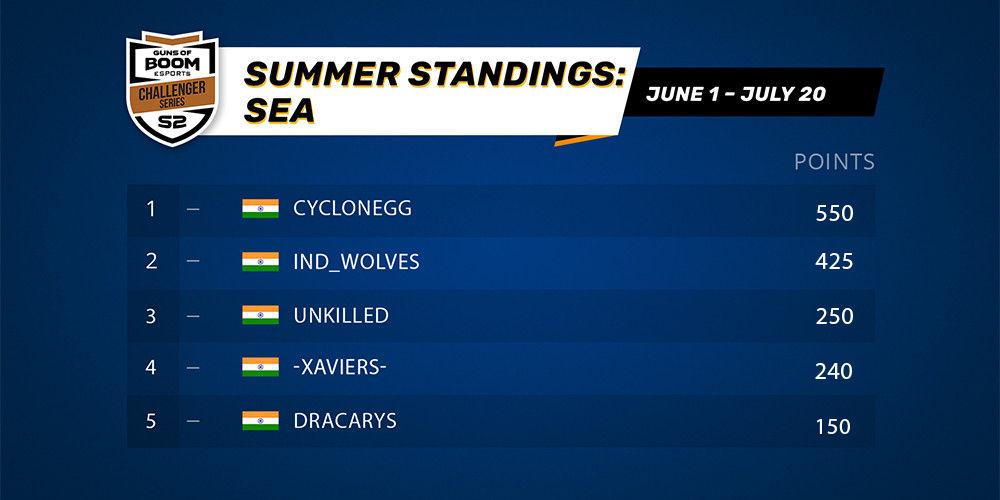 ---
Europe
The first semi-final game featured Back To Back vs LAZARUS. Old Factory went in favor or Back To Back with a good score – 507 to 347. -KM- took MVP in this battle with 144 points. Farming Complex was much more intense: Nok1a made a Triple Elimination and XLNC took MVP with a whopping 320 points, but the map still went Back To Back's way. 2:0 — they'd moved up to the finals.
The second semi-final game was between Knights of Honor [JUGG] and EDGE Infinity eSports. The battle started very evenly, but Djani (who rightfully got his MVP for 216 points) managed to claim a Triple Elimination, giving his team a sizeable score advantage that led to victory. The second map was even more intense: scores were so balanced that a single mistake would lead to defeat. EDGE took the win literally in the last seconds of the match. MASIV got his well-deserved MVP with 251 points. It looked like this unfortunate loss tilted the game slightly, but that was enough. EDGE won the third map with complete confidence, HaiL taking MVP with 180.
The finals rolled across 4 maps and started off with a very exciting clash on Europe: Streets. EDGE Infinity eSports were in the lead for a while, but great team play from Back To Back secured a victory for them in a very tight fight. MVP goes to Nok1a with 198 points. The second map is once again dominated by Back to Back and Nok1a himself: he gets the victory and the MVP title with 249 points. BTW, he's on a roll: this week he's the best in his region with an admirable 2.62 KDA!
Military Warehouse was tighter than a sailor's knot: the teams were playing very close, and only a few points decided who won. EDGE generally handle this kind of pressure well, and this time they delivered as well. The third map went in their favor, and Hail claimed MVP with 180 points. The fourth map, however, showed some great team play from Back to Back that allowed them to win the finals in this cup. Very confident, very effective. Migs gets to wear the MVP badge for this one – 226 points.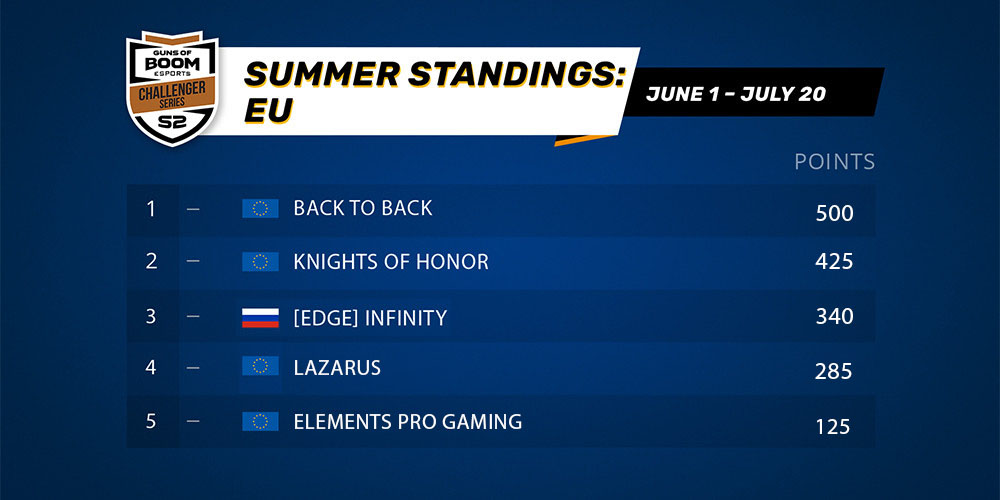 ---
North America
The finals of this region were held between the mighty giants of competitive Guns of Boom. Impact Gaming went head to head against EANIX. It's a sight to behold, so if you haven't seen them fight, don't read the report – watch the whole thing. It's worth it.
It all started on Europe: Streets with Impact Gaming coming on strong and taking the map: Triple Eliminations from KORRUPT and VENOM, with the latter claiming MVP (147 points). EANIX almost made it on Atrium, but Impact Gaming got their nerves under control, played it cool and got the win. GENTRICKS with an astonishing 286 points takes MVP in this battle, and in the whole finals of this week. Then came Military Warehouse, where EANIX got a 100-point head start and won the map. Thanos scored 179 points, which secured him the honor of being MVP of the match. It looked like this sudden loss demotivated Impact Gaming for a while, and they lost the next battle on Subway at a double point disadvantage. Divine King from EANIX got the MVP title for scoring 208 points.
However, Impact Gaming got back on track on Skyscrapers: the match was so tight score-wise, there was rarely more than a 10-point difference. EANIX secured the victory only seconds before the timer ran out, and GoKu JavieR MVP for 139 points. Amazing victory!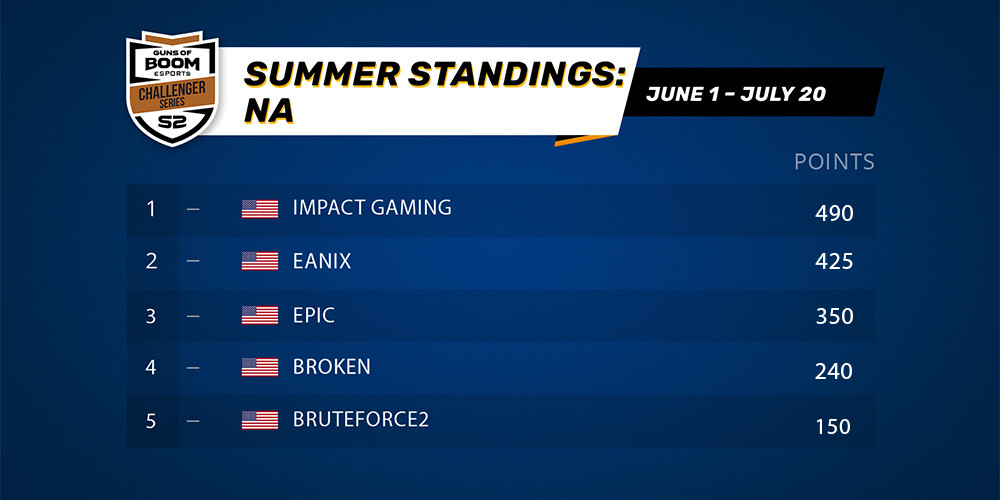 ---
Latin America
The most shocking region of this cup. Team La Familia came in strong and hard and even overpowered the favorites of the Challenger Series from Brazil. The finals kicked off with Europe: Streets, where La Familia showed that they had the upper hand against BrazuKas. They took the win, and K-MAYSER was named MVP with his 176 points. The second map was more even with each team having a good shot at victory. However, BrazuKas did not manage to get the needed points and lost 1125:1203. BLACK took MVP with 282 points. The taste of sweet victory was in the air, and La Familia could feel it. The third map, Military Warehouse, went in their favor once again with the final score being 387:503. K-MAYSER secured the MVP title for the second time with 173 points.
Looks like the players on BrazuKas were too relaxed and confident, not supposing that La Familia could put up such a tough fight right before qualifying for Pro Series.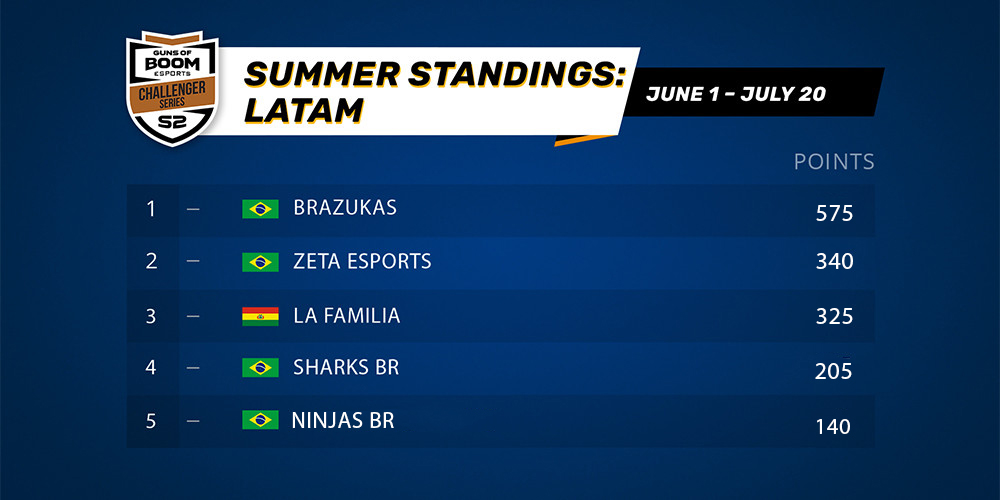 ---
That's all for today. Stay tuned for more esports goodness!