The other day, we posted an article about the 20 key changes in the game we made in 2021, based on the feedback from our players. Until the year is over, we would like to present you the Public Roadmap for the first quarter of 2022. This plan demonstrates that work on improving the game, based on your wishes and comments, continues in full power.
So, what changes await all gunslingers in the game from January to March?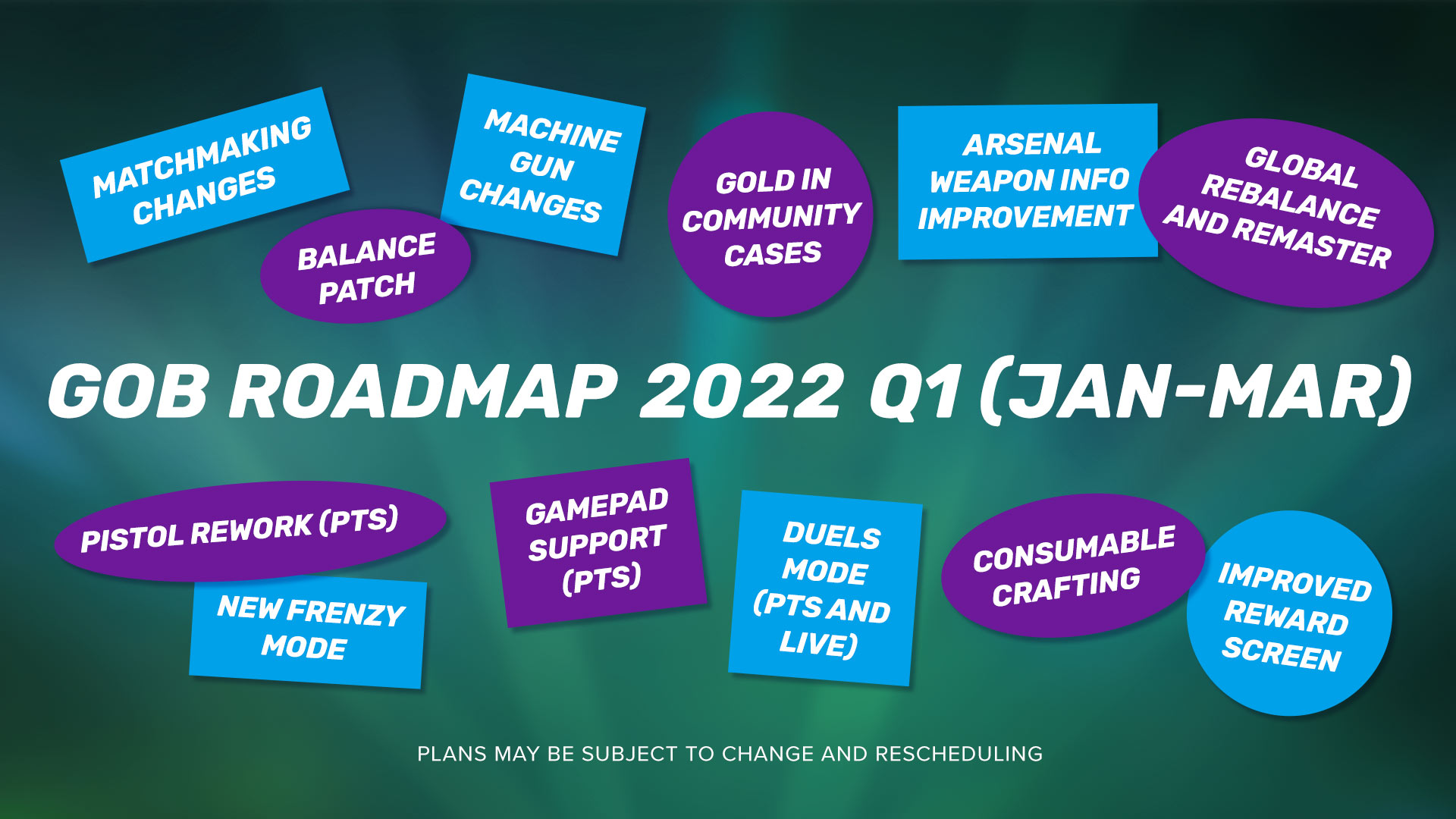 Improved Matchmaking
• Matching by Level. You talked a lot about it, and we agree – matching opponents based only on their current league, sometimes results in players of very different levels fighting in the same match. It's impossible to make matchmaking perfect just by adding level-matching, but you should feel the difference nonetheless when it comes to how balanced teams are.
• Platinum League Progression. If you're a Platinum player, you probably ask yourself sometimes: "What's the purpose? Why do I try to increase my rating every 2 weeks?" We want to take this issue off the table and make Platinum matches interesting fr everyone – whether you just want to have fun or actually try to prove you're the best of the best.
Complete Weapon Overhaul
• Global changes in Machine Guns. Just as promised in the results of 2021, we're trying to reinvent Machine Guns to let them find their place in the current meta. Some may think this is yet another balance change, but that is pretty far from the truth. This time, we're really overhauling the whole gun category and changing the archetype of these weapons. Very soon you'll get to check out the changes in the main game!
• ARs/Shotguns/Sniper Rifles. After launching the PTS with numerous weapon changes, we've collected tons of useful feedback and stats, and soon, we plan to make some individual tweaks to some guns, as well as overhaul primary weapon classes in general. Don't worry – we'll take all your feedback into account, and will test all the changes on PTS before adding them to the main game. We are not planning any radical nerfing, we mostly strive to make all weapons more useful in specific situations, so you can choose different tools for different battle tasks.
• Balance Patches. We're planning to overhaul primary weapon archetypes, but we're also planning to fine-tune certain guns directly, based on your feedback and requests. The first items to get balanced are Bear Trap, Undying, Gecko, and Flashbang grenades. We also plan to do work on Odin, Reaper, and Orion. Of course, once we're done with overhauling primary weapons, we'll need to tweak some of them for better balance.
• Improved Info in the Arsenal. We decided that the Power spec wasn't too informative, so we switched it to Damage, which shows how much HP one shot will deduct from your enemy's health. The Accuracy spec was also uninformative and hard to understand, so we replaced it with Rounds per Minute, which clearly shows the weapon's rate of fire.
• Change in Pistols' Mechanics (PTS). Pistols come in handy every once in a while, but some gunslingers don't like them and feel like pistols interfere with their gameplay, being overly clunky. If you're one of these players, we've got good news for you: you'll get a chance to draw the pistol only when you need to. However, if you're already used to the way things are now, you'll be able to keep the current pistol mechanics with no changes.
• Duels. Have you ever wanted to feel like the main character in a shot-em-up western? If the answer is yes, we've got the perfect game mode for you. Only you and your opponent on the map – find out who's got the best skills! We'll continue testing the Duels mode on PTS for now. Not sure how it'll appear in the main game: as a brawl, an event mode, or maybe part of the Classic Battles. These things depend on you a lot, so make sure to share your feedback and insights about the new mode.
• Controller Support (PTS). We promised this feature in 2021, but it got postponed to 2022 because you demanded that we prioritize other issues. Gamepads are a big trend in mobile shooters, and we're not going to ignore it. We plan to have a PTS at the beginning of 2022, so if you were planning to get a gamepad for your smartphone, don't put it off too long.
• Increased Value of Community Cases. We want to make our Community Cases, which you get for taking part in contests and other activities, more valuable and desirable. We'll remove the Battle Coins from them, which you get every day anyway, add more consumables, and increase the chances of getting cool cosmetics like rare masks, costumes, and emotes. We will also add a chance to get some Gold from these cases. Sounds swell, right? We think so too. Don't miss the contests on social media, and share your feedback actively to get more of these cases!
Moving Forward – Together With You!
As you can see, we've got tons of plans for the future, and this Public Roadmap is just the beginning. In 2022, there'll be a lot of amazing developments in the game, and we're hungrily waiting for your feedback which fuels our enthusiasm every step of the way. Keep playing, test all the new stuff on PTS, leave your comments about the game, and together we'll achieve great things!