Since May 2021, we've done a ton of work on changing and improving the game. This work is mainly based on our improved communication with you: we started sharing our detailed plans on dev streams and in articles, as well as collecting your feedback through all possible sources. You shared your ideas and opinions through a massive questionnaire in the main game, wrote comments on various social networks, left reviews on the App Store and Google Play, and sent your feedback to the Support Team. Apart from that, we launched a PTS (Public Testing Server), where we could test out the features before releasing them in the main game, as well as experiment with some wild new ideas. After each launch, we conducted surveys, which we analyzed thoroughly to tweak our development process.
The new dialogue format between players and developers allowed us to rework and over 20 key game features over the last 6 months. First of all, we worked on the most popular community requests: some of them sparked heated discussions, and we always tried to make the most balanced and fair decision that would be in the favor of the majority of players.
There's still a lot to be done, but right now we want to share some preliminary results. Let's take a closer look at how Guns of Boom changed in the second half of 2021, and what we achieved in improving the game, based on community feedback.
Table of contents:
Guns of Boom Classic
Our journey of transforming the game started in the spring of 2021 by bringing back the original name. At the same time, we introduced some important changes:
Just as you asked, we added the option to use up to 4 different weapon types in one loadout. We also saved the ability to use up to 5 loadouts in the same match. That means you can make use of up to 20 primary weapons in a single battle – that has never been possible in Guns of Boom
Battle Coins no longer disappear at the end of seasons, and prices at Battle Fairs have been significantly lowered.
We extended the seasons to 60 days, so all gunslingers could max out their Battle Careers.
Public Roadmap - 2021 Review
In July of 2021, based on all the player feedback we analyzed, we started working towards certain changes that were due by the end of the year. We confirmed our commitment to these changes in the form of a Public Roadmap. Below, you'll find a detailed report on how much we achieved following this plan.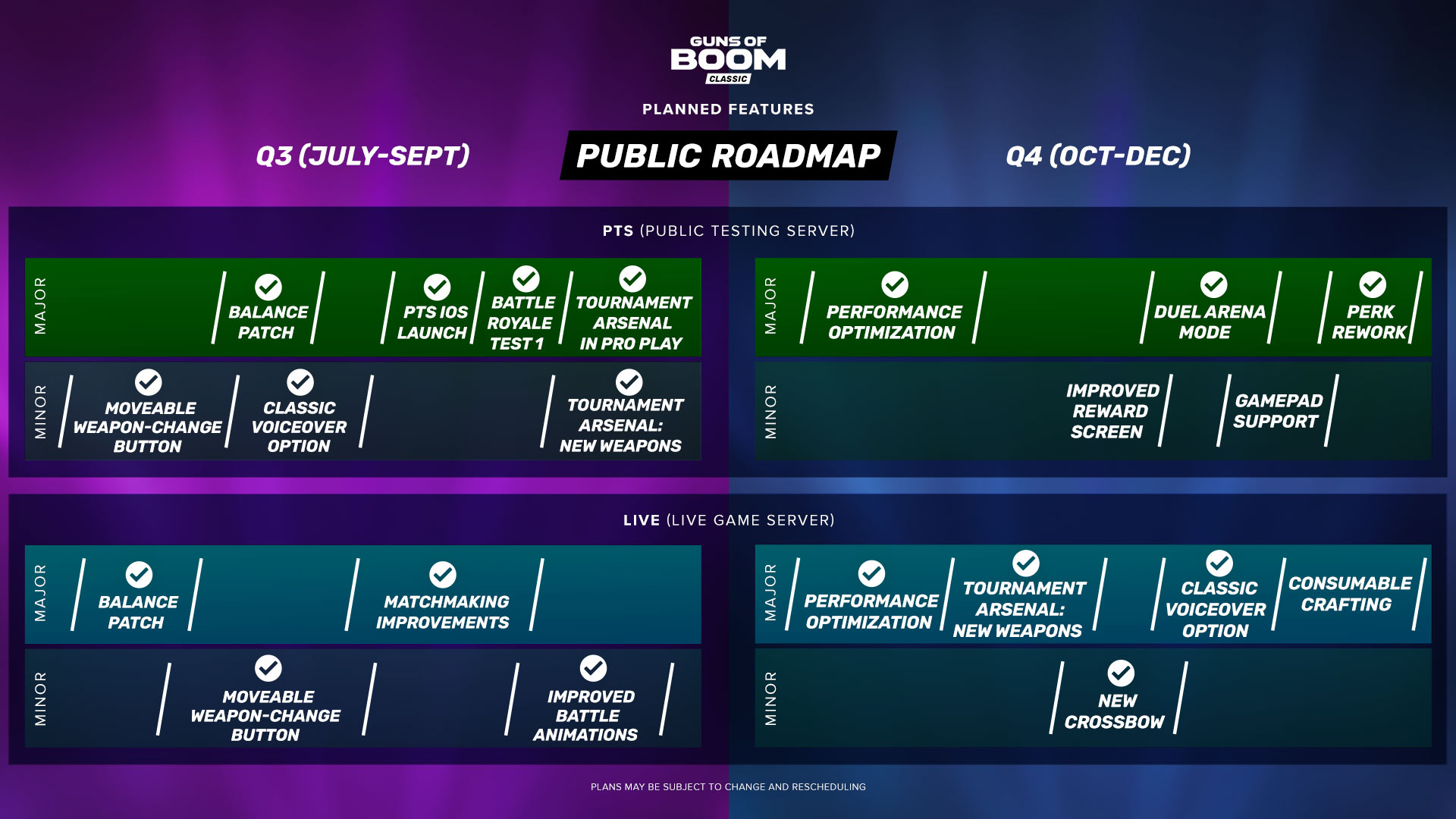 Matchmaking
One of our priorities was to improve the matchmaking system in such a way that any player could quickly find an interesting and challenging game after pressing the "To Battle" button. We clearly understood that we had a long road ahead of us, and here's what we did first.
Made several improvements to balance the game experience for low-level players. That way, everyone can progress at their own pace.
Separated group and solo players into 2 different matchmaking queues. The reason for this is that lots of players complained that they got matched against groups of 2, 3, and even 4 gunslingers playing together. Surely, playing in a team with random people against an organized group of players, even if there are just 2 of them, is hard and can be frustrating. The stats and the questionnaire many of you took showed that the majority of players enjoy Guns of Boom solo, so we decided to give this community request the green light. The situation for solo players improved, and matchmaking became fairer. However, party players faced extended waiting times. We found a compromise in keeping the queues mutual for event fights and brawls, that feature no stat risks. We hope this situation will change for the better in the future: if more groups start playing, the waiting times will reduce. However, we need to tell you that group matches will never start instantly because finding groups comparable in skill and power is much harder than finding 8 random players.
Added level progression in event fights and brawls, so players do not intentionally stall their progress. This will allow gunslingers to gradually move up in the leagues as they amass more power. There shouldn't be a problem with players falling behind power-wise: the purchase and upgrades of Gunbucks weapons are now easier, Battle Coins do not get converted at the end of the season, and there are 24 items at Battle Fairs each season. Maxing out your guns and equipment has never been easier!
Formulated our plans for the future. We've only started improving the matchmaking mechanism, and in the coming year, we plan to do some major work in this regard. The first changes will happen at the beginning of 2022. Soon we'll announce everything - stay tuned!
Giving our players a chance to test out future changes before they are released as well as trying out experimental features was an important issue for us. The launch of PTS allowed the community to play an important role in game development while giving us an invaluable source of early feedback. First, we launched PTS on Android, but pretty soon, per the Public Roadmap, we released it for iOS as well, providing all our players with the ability to take part in the testing process. We also created a separate Discord server to better analyze your feedback and started conducting surveys after each PTS. We even provided some rewards in the main game for the most active and dedicated testers.
Since the announcement of Guns of Boom Classic in May 2021, we've launched PTS 8 times. We divided them into two big categories: the first one featured changes that we wanted to soon implement in the main game, and the second one showed off prototypes of features that might appear in Guns of Boom in the distant future, or not be released at all. Today, we want to talk about the three launches of the latter category.
Battle Royale - everyone's heard of this popular game mode! We did some epic work before launching the first test: created the biggest map in Guns of Boom, added new mechanics like zip lines and knock-down, and made a ton of other changes. From the beginning, we understood that this game mode required a lot of work, and we planned only one PTS launch for 2021 to collect as much data and feedback as possible, and then process it correctly. That's exactly what happened: you supplied us with tons of valuable stats and suggestions, which we will definitely consider during development. We can't say when the next test will happen, because there's so much work to be done on the prototype before we can roll out another PTS with it.

Perk rework. In the Public Roadmap, we only promised to launch the first perk rework PTS, but in reality, we did more: we filtered all existing perks, reduced their number, and made them available to all specializations. We've also reworked 16 weapons (4 of each type) in such a way that they feel more organic, and each weapon type plays and behaves differently in battle. It was a very important PTS, which allowed us to test a bunch of hypotheses. The rich feedback we received will help us fine-tune the weapon balance in the near future.

Duel Arena mode. There are a lot of competitive players among gunslingers who simply love a real power struggle where skills decide everything. With their needs in mind, we created the 1x1 game mode, where the outcome of each match depends only on your mastery and nothing else! We plan to take all of your feedback into account and add this game mode to Guns of Boom after we polish it through a series of PTS launches.
Stability & Optimization
The work on code optimization and stability improvements has been going since the day of the game's release 4 years ago, and 2021 was no exception to the rule.
This year, our team put a lot of effort into fighting memory loss issues (the main cause of app crashes), and we're already seeing a positive trend.
Unfortunately, this left us little time to take care of performance issues (simply speaking, fighting lags). However, different players have different devices with different specs, and even if we put all our efforts into optimization, we wouldn't be able to one day reach a state, when "the game runs smoothly on all possible devices". It's technically impossible. We will be discontinuing support of some outdated devices that simply cannot handle a modern 3D first-person shooter, as well as optimizing performance on the rest of the gadgets (we know that problems arise on them as well). Do not worry - the eradication of lags hasn't stopped, and will be active throughout 2022.
Classical voiceover is back!
Many of you missed the good-old voiceover with "Brutal Kill" and "Headshot" soundbites. Just for those hardcore fans, we added it back into the game - now you can choose the commentator's style in the settings and enjoy the game just the way you like it.
Battle animations
We've updated all battle animations for characters in the game. This, among other things, solved the critical "right shoulder peeking" issue when a player's model almost became invisible while they stuck to cover with their right side.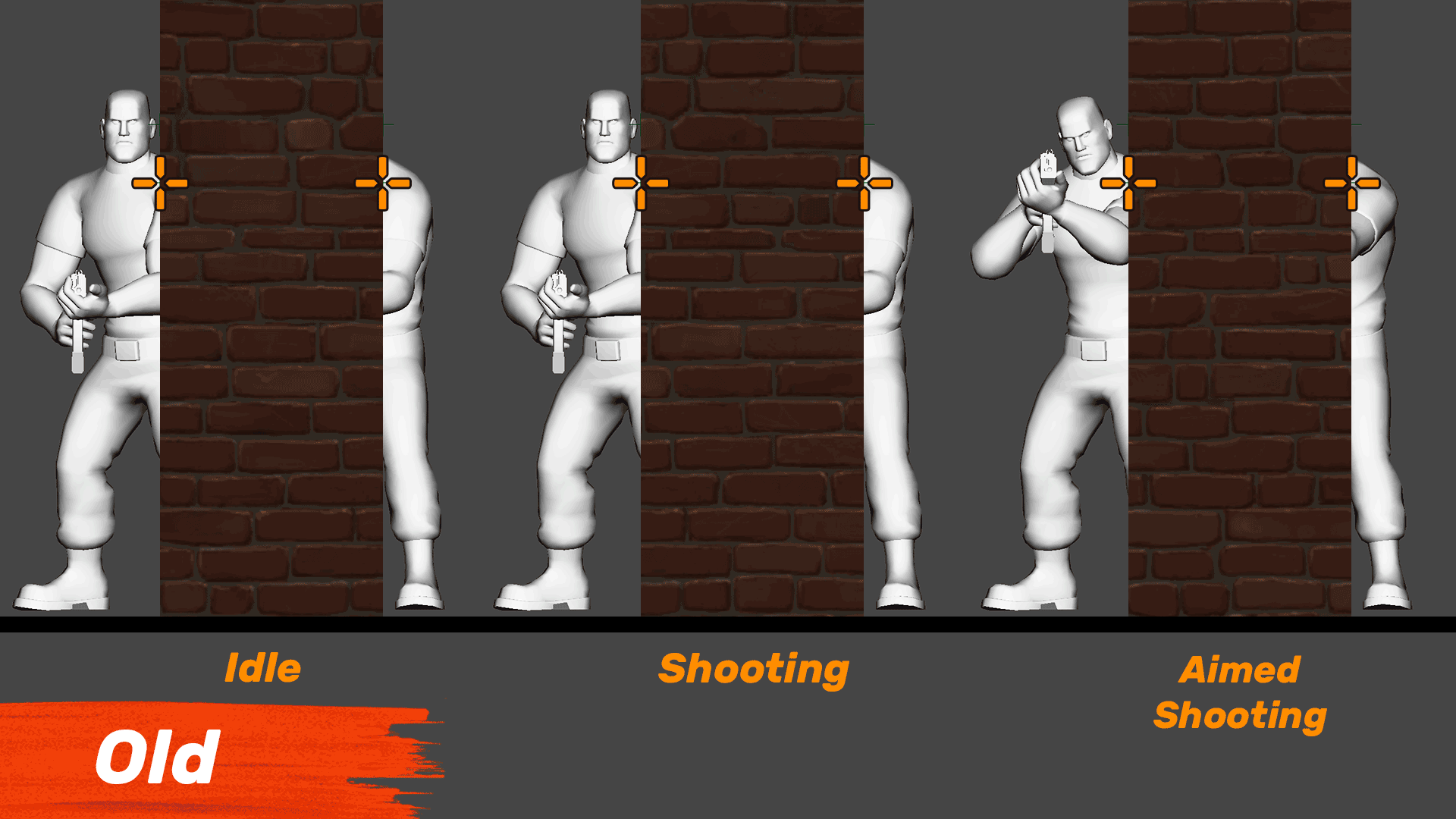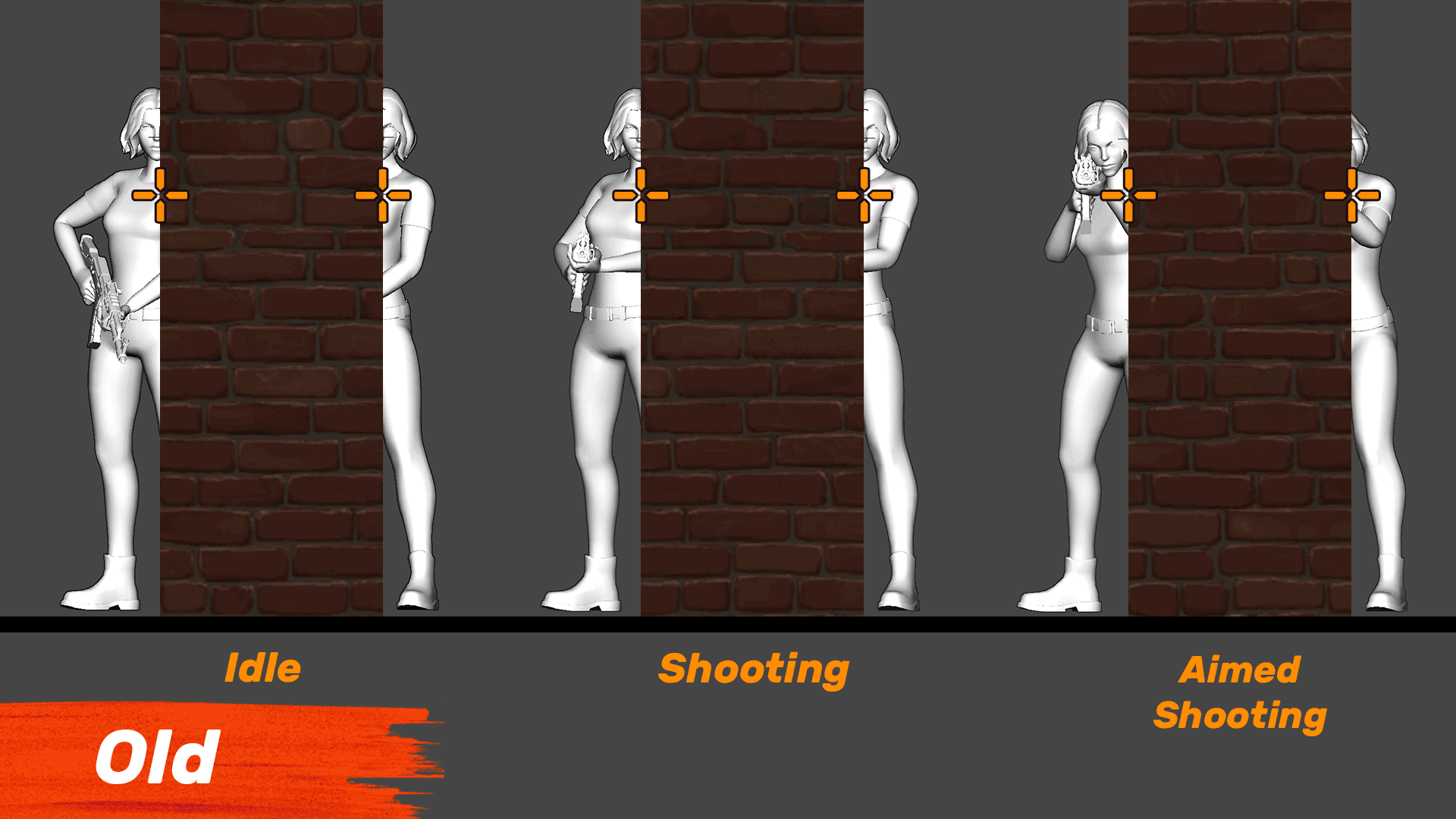 New weapons in esports arsenal + esports arsenal in Pro Play
If you enjoy the competitive aspect in Guns of Boom and the ability to play by tournament rules, you've probably been missing a few things: the option to train with tournament loadouts, and a more diverse weapon arsenal for tournaments. We solved both these issues: unlocked all esports loadouts in Pro Play mode (even if you haven't purchased the guns), as well as expanded the arsenal after getting your feedback and making sure on PTS this wouldn't break the game balance.
Movable weapon switch button
You've asked for it, and we listened - now the weapon switching button is movable, and you can place it anywhere on the screen where you like.
Balance changes
In the Public Roadmap, we talked about one balance patch, but in reality, we did a whole 4! In them, we changed only the things you wanted us to change. We reworked Exorcist, Chopper, Icebreaker, Berserker, Undying, E.Y.E., Scorpion, Gecko, G-Launchers, Stim-Guns, and 2 perks. Undying and Gecko received the most noticeable changes. In the future, we plan to continue fine-tuning guns, but we'll do it at a slower pace. The main takeaway for us was that gun gameplay needs a thorough overhaul, to highlight the features and special traits of each weapon. Following this resolution, we'll be introducing reworked machine guns at the beginning of 2022! Soon we'll share all the details about this work, as well as some insights into improving the arsenal information.

The release of Drifter's Crossbow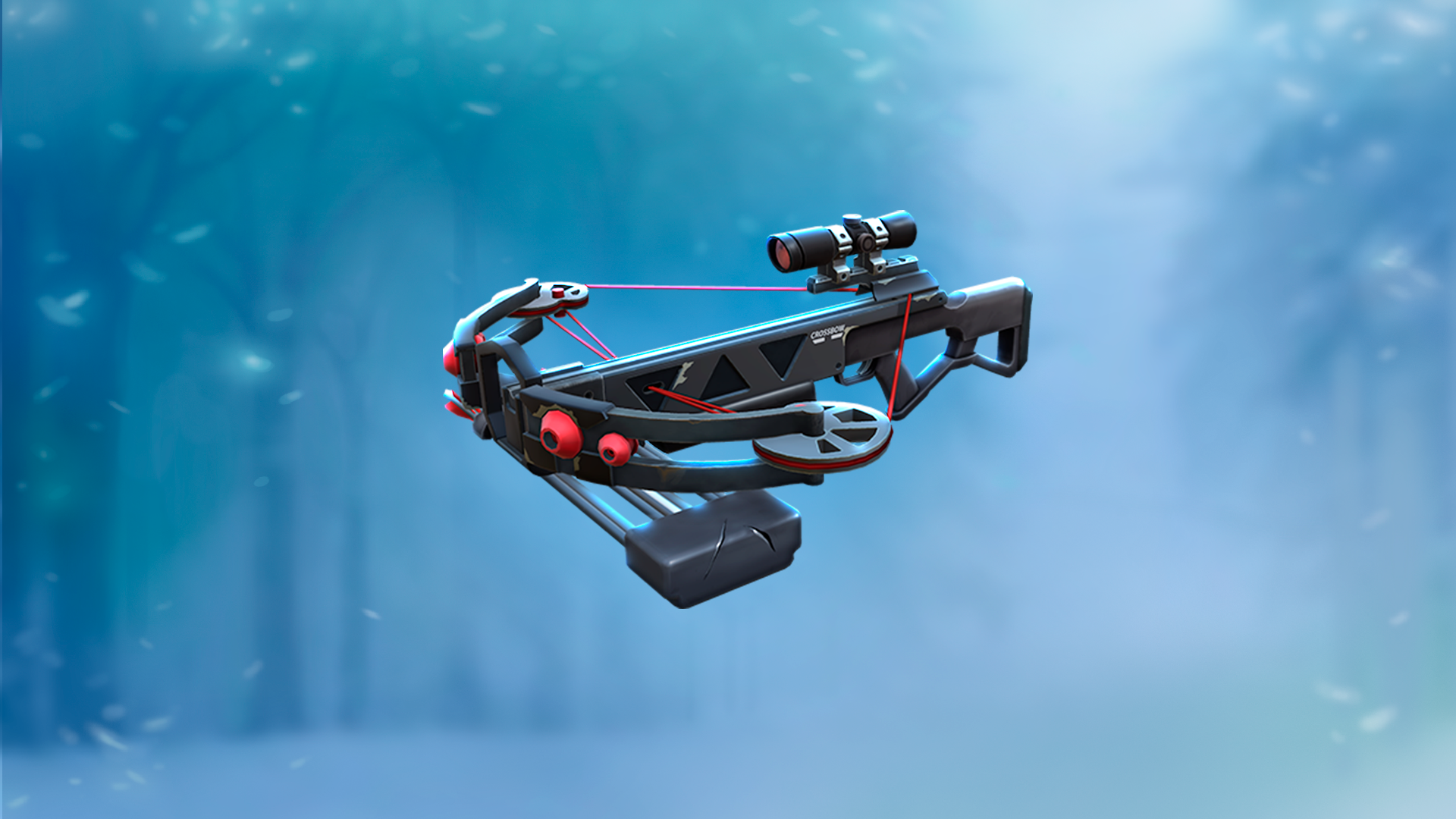 Deep analysis of player opinions and feedback showed that a lot of you wanted Daryl's Crossbow - many players just didn't finish assembling this weapon during The Walking Dead event we hosted in collaboration with AMC at the start of 2020. We had a choice: we could either create a completely new crossbow with its own specs or create a new weapon with specs identical to the event crossbow while turning Daryl's Crossbow into an exclusive skin for it. Your comments helped us make up our minds. The completely new crossbow wasn't what the community wanted: for owners of Daryl's Crossbow it would be another weapon to assemble, and for those who didn't have it, it wouldn't be the weapon they wanted all this time.
Finally, we drew a completely new look for the crossbow, naming it Drifter's Crossbow, while making Daryl's Crossbow a "special" skin. This new category of weapon skins was designed just for cases like this. Special skins not only change the weapon's geometry but also provide the skin's name on the elimination feed and in the arsenal. So Drifter's Crossbow became available to all players, while Daryl's Crossbow remained an exclusive skin for gunslingers who actively took part in that historic event.
Work in progress…
During the 6 months, our priorities sometimes changed, and we had to tackle new challenges. At the end of the day, we delivered all that we promised in the Public Roadmap except for 3 things, which we'll discuss below.
Consumables crafting
This task turned out to be pretty hard both resource and balance-wise. Right now, we cannot say when exactly we'll be able to release the feature, but we'll be working on it in 2022.
Reward window interface improvements
We're almost done with this task, and in Q1 2022 you'll see the first results of our work on PTS. And the addition of those to the main game is just around the corner too.
Gamepad support
You rated this feature as the least important, so we decided to hold it off for a while, especially with all the other features we rolled out. However, we feel game controllers are an important part of modern mobile FPS games, and we'll be carrying out the first tests in Q1 2022.

Our achievements beyond the Public Roadmap!
In the last 6 months, our Roadmap plans sometimes required a detour based on your feedback and requests, so some new features that appeared in the game were not planned at first. We hope that they enhanced your gameplay and made Guns of Boom better for you.
Price changes for Gunbucks weapons
It used to be that weapons sold for Gunbucks required both Gunbucks and Gold for future upgrades. The prices for these upgrades also varied a lot, depending on the level (for instance the second and third levels could be cheaper than the first one). We've made two important changes. First, we reworked upgrade prices, so the first levels are cheaper, and later ones get more expensive gradually. Here's an example of the change in purchase prices for some popular guns: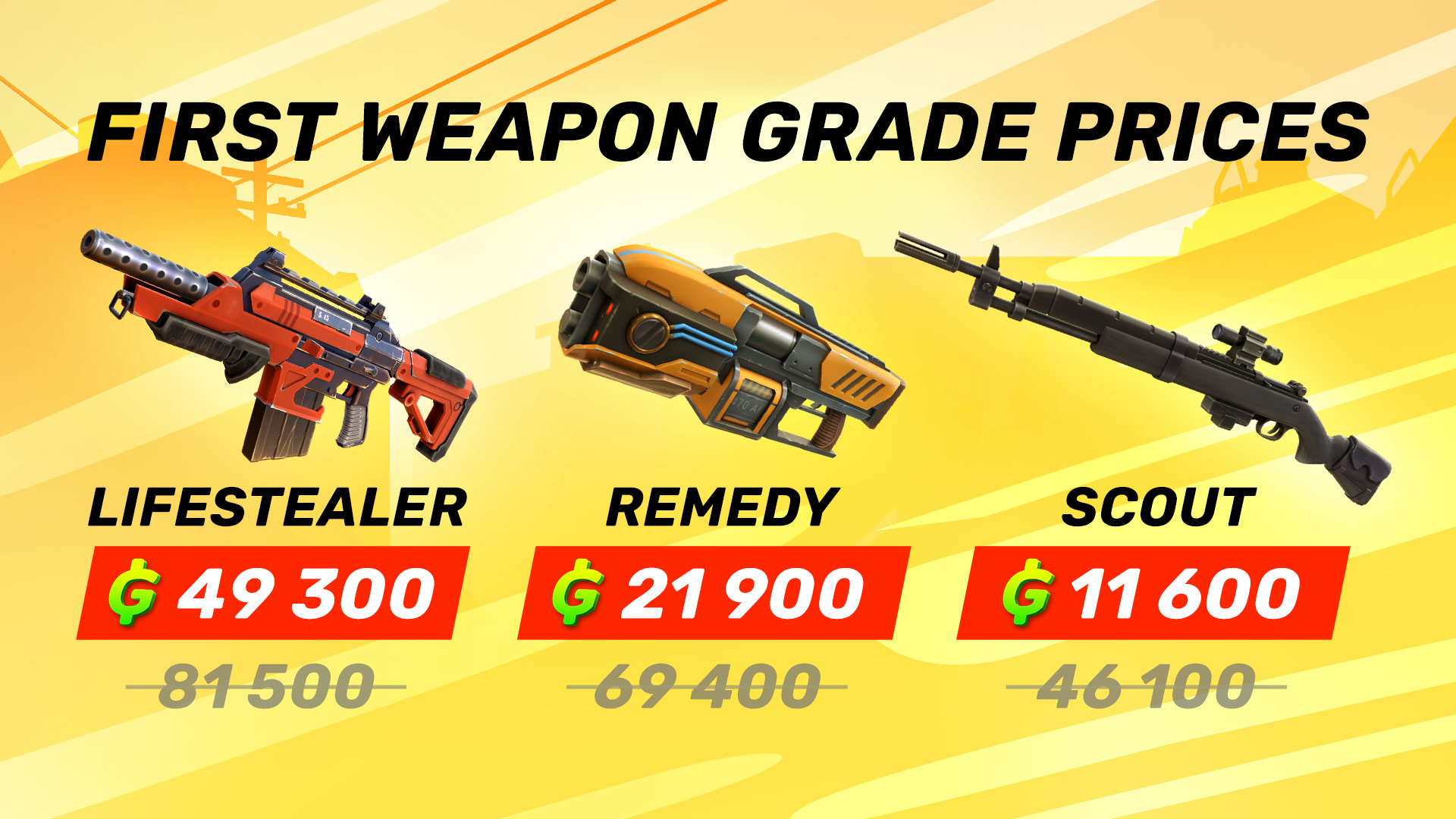 Second, we changed the currency of all upgrades to Gunbucks - now you don't need Gold to max out a gun you purchased with Gunbucks! This applies to all Gunbucks weapons: Assault Rifles, Shotguns, Sniper Rifles, Machine Guns, Pistols, and even Knives. However, the final price for fully upgrading them stayed the same. Those players who did not finish leveling up their Gunbucks weapons received compensation - in GOLD! Those who fully upgraded their weapons did not receive compensation, because the prices of fully upgraded weapons stayed the same - it just fully consists of Gunbucks, and not Gunbucks and Gold, like before.
Expanding the number of game modes and maps
We expanded the number of game modes and maps you can access in Classic Battles to increase variety. After carefully analyzing the community's reaction and feedback we decided to remove Team Elimination from Classic Battles and fine-tune Object Control in such a way that not only the player holding the object gets a bonus, but their whole team does. If you want to see other modes in Classic Battles, drop us a line - we'll make sure to read and take into account all the feedback you send us.
New reward - Community Cases
This is a unique reward which you can mostly receive for taking part in contests and other community activities. These cases allow you to assemble a ton of different cosmetics (emotes, weapon skins, costumes, and masks) that are impossible or hard to acquire by other means. They also contain consumables and Battle Coins. The more cases you have, the more rewards you can get, so be bold, be active, and take part in our contests and giveaways!
Remastering old content
Our game develops over time, and so does the technology. That's why some of the things we designed a while ago become outdated and don't look as sharp as they should. We do our best to give them an overhaul and a new life! Here's what we did in the last few months.
Updated the visuals of 3 costumes and made 7 costumes upgradable.
Reworked the "Mexico: Church" map - now it's called "Mexico: Town Hall". This location now looks very fresh, bright, detailed, and just plain beautiful. We hope you enjoyed the work of our artists and level designers!
Events, modes, and maps
Regularly adding new content, events, maps, and modes is the foundation of Guns of Boom, and it's something our players value. In the last 6 months, we held 9 events, added 2 new guns, 2 pieces of equipment, a ton of cosmetics, and showed 6 mew modes (Boomball, Counter Assault, Loot Hunt, and 2 Control Points in the main game, as well as Duels and Battle Royale on PTS), as well as 2 brand-new maps (Europe: Abandoned Village and Triton Station)
Unlocking equipment in specializations
At the end of the year, we made a very important change that you asked us for - we unlocked all equipment in all specializations. You can now assemble 5 loadouts, each one with 4 guns, and any set of equipment items you like. In the future, just as promised, we will rework perks as well - but only through PTS so you can keep an eye on the process on all development stages. We appreciate all your sincere and detailed feedback and try to meet your expectations whenever we can.

This is just the beginning!
It's been a very busy and fruitful year, and we achieved many milestones we set out to reach by listening attentively to our community and the feedback from players. We hope Guns of Boom brought you many fun and memorable moments! Next year, we'll have new goals to strive for, and we'll share some of them(Q1 plans) before the end of 2021. Stay tuned for the news, and be the first to know what's coming in January-March!
Thank you for inspiring us, sharing your amazing ideas, and supporting the change. Together we will make Guns of Boom better!
Sincerely yours,
Guns of Boom Team