GUNS OF BOOM: 4 YEARS AND COUNTING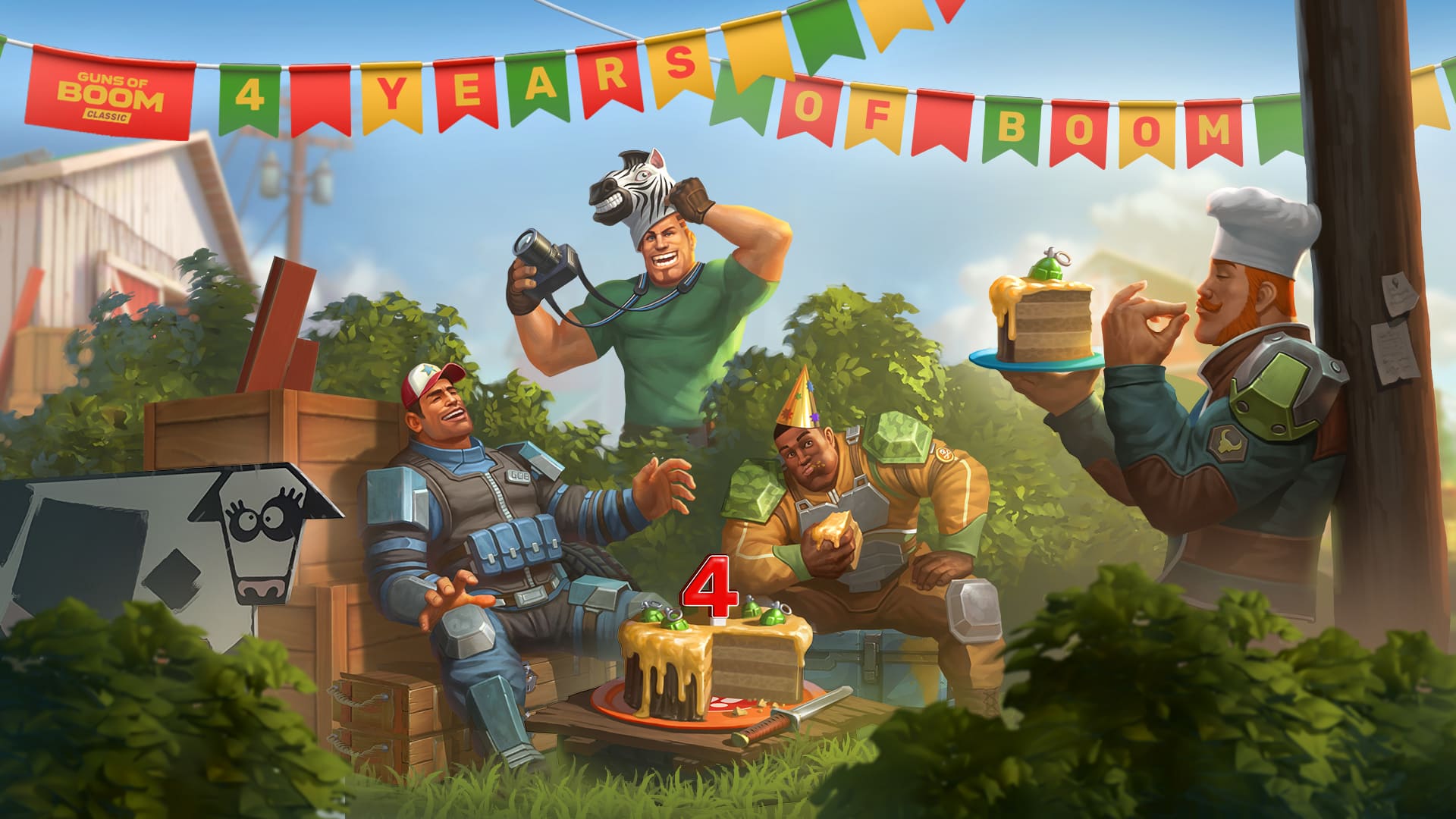 Last week Guns of Boom turned 4, and we won't let you off without a celebration! Get ready for the 2-week Birthday Event with a special nostalgic Game Mode, unusual Holiday Fair with insane amounts of must-have Accessories, and, of course, the Gift Marathon. Go hard with the old-school Guns of Boom, and feel the power of legendary weapons. The event starts on May 27!
MODE CHANGES
In Update 24.0, we increased the number of modes in Global Matchmaking and added the Featured Mode. You sent us a lot of feedback about these changes, so we thought it over and made some changes.
From now on, there will be only one mode for each map in the Global Matchmaking, 20 maps in rotation in total.
Team Elimination: Auto Health Regeneration turned off to make the gameplay more dynamic. The mode will be available on three maps: Construction Site, Skyscrapers, Old Factory. We also changed the matchmaking rules for this mode, so you no longer will be thrown into battles that are about to end.
Object Control: Changed the way the points are counted. All points the player scores while holding the object are awarded to the team instead of the player. The old scoring mechanic will be used in the brawl. This mode will be available on the three event maps we're adding to the rotation: Asia: Fusion, Asia: Palace Of Shadows, and Asia: Dragon City.
Zone Control: Battles in this mode will be played on Mexico: Village and Asia: Waterfront maps. We may add more maps for Zone Control in the future.
Payload won't be available as a Featured Mode, however, it's still available in Global Matchmaking. Games in this mode are played on the map Europe: Autumn, as usual.
All other maps will be available with their original modes. For example, TDM will no longer be played on KOTH and CP maps, as requested by the community.
All maps with the new modes from Global Matchmaking will be available in Pro Play.
OLD MAP MADE BETTER
The map Mexico: Church was visually improved, and its name was changed to Mexico: Town Hall. Be sure to visit it and appreciate the renewed surroundings!
UPGRADABLE COSTUMES
Time to put those scraps to good use! We're making several costumes in the Arsenal, upgradeable: Shadow, Assassin, and Astronaut. If you have these costumes, you can upgrade them using scraps that you earn from converting duplicates. Make old costumes shine anew and level up your style!
COMMUNITY CASES
We've added a new type of cases to the game – Community Cases! These will be used as prizes in contests and giveaways, and as rewards for various community activities. Community Cases contain different consumables, Battle Coins, and fragments of rare cosmetics, which you can't unlock from other cases.
FIXES
When viewing other player's loadouts, correct grades of weapons are displayed
The correct informative message appears when a player's level is insufficient to buy additional loadout slots
Removed past season's sandy landscape from the loading screen
Fixed the bug that made the Fair's wheel spin several times when the internet connection was weak
Now, the sign 'Rented', when renting equipment, is displayed correctly
Fixed the bug that prevented the preview of some Battle Career rewards
Fixed the bug of insignia overlapping with the main lobby screen when you're changing it in your profile
Check out the article on known issues to learn about the bugs you can possibly encounter!